Click image to view this project.
I am looking for craft projects using old denim jeans.
Randi from Vacaville, CA
Answers:
New Uses For Old Denim
Re: Purse made out of denim, add pockets.

To make pockets inside the denim purse, instead of using the denim shorts, use jeans with legs. When you turn the jeans inside out to do the bottom stitch, don't cut the legs off the jeans. Just pin up a leg, the left leg and right leg will be on opposite sides of the inside walls of the purse. These form the two pockets, one on each side (inside).
Cut the legs off a little taller than the top of your purse, because you will want to create a seam with this little extra denim so that the top of the "pocket" doesn't unravel. Just don't make the seam so high that it jams up a zipper. That is, if you want a zipper instead of a Velcro closure. Then you just press the legs flat and stitch up the left and right vertical sides of the legs to secure the "pocket" to the purse wall.

If you want a baggy pocket, kinda pooch and straight pin the leg pocket to the purse side and stitch up the left and right sides of the leg. This way you have pockets to hold bulky items like a cellphone or overstuffed coupon holder or checkbook with IDs/credit cards or big sunglasses, which would otherwise get squished by a skinny, flat pocket.
You will find that each jean leg forms two compartments after the left and right stitches are made. Now you have a total of four pockets in your denim bag, two on each side. If you want narrower pockets, just stitch vertically somewhere in between the left and right stitches to get more pockets (like for those narrow reading glasses, pens and pencils, lipstick or mascara, nail file, extra house keys, a penlight, a hand fan, a comb or narrow hairbrush, pocketknife, etc. You could even save a longer piece than what you saved for the top seam of the pocket and make a little snap closure or two to offer further protection of purse items. Be creative. Now, back to the beach. (08/16/2005)

By Gidget
Craft Uses for Old Jeans
My next door neighbor makes rugs by cutting or ripping the jeans and other fabrics into long strips, sewing the end of the strips to make them longer and braiding them. She makes braided oval rugs, circular ones, placemats, chair pads and pads to put your hot pots on. (09/17/2006)
By Flowergirl51
Craft Uses for Old Jeans
I have seen a short skirt made from jean pants, it was really cute, too. I also have saved denim for quilts. The handiest thing I've seen was when one head nurse of mine sewed together jean pockets with some edging denim and made "mail" slots for the staff. Nowthat is neat and it took only wall room, it hung up. (09/22/2006)

By 2oma
Craft Uses for Old Jeans
You can cut out the pockets and make a new hunting vest. (12/06/2007)

By Alan
Craft Uses for Old Jeans
I love to create junk jewelery from remnants of jeans like fly buttons, zippers, belt loops, and the leather patch behind. This is one of my favourite pendant. (12/19/2007)

By katekhwa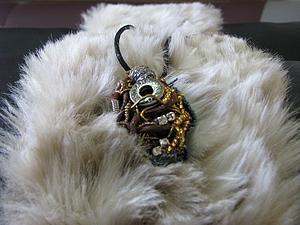 Craft Uses for Old Jeans
My mother-in-law cuts up old jeans and makes quilts.
The pockets on the jeans are an added bonus. To personalize the quilt, she cuts letters out of the jeans to spell out the name of the recipient, then stitches the name onto the finished quilt top.
Jeans make nice purses; add bead work, or embellish as desired.

Also, you might want to tear the jeans into strips and crochet them into rugs. (12/19/2007)

By Dibbs
Craft Uses for Old Jeans
At one time I had a small purse from old jeans of my son's. I used a chain for the handle. I used pockets off of several pairs on the inside and outside to separate things.
I have also made a purse from placemats and used the jean pockets on the inside. I am not quite sure how I did it now as it has been awhile. I am thinking I need to get the jeans my cousins are growing out of and do it again. (07/27/2008)
By SunshineRose
Craft Uses for Old Jeans
I never made one of these, but I remember reading about it, thinking what a great idea it was. Use the good part of the leg fabric from jeans to make strip blocks, whatever shape you need, whether square, rectangle, but every so often, make sure to use a piece that has the back pocket left on. Piece the pieces together to make a picnic table tablecloth. The back pockets work to hold the silverware and napkins, keeps them from blowing off, and the weight of the tablecloth helps it stay on the table. I thought it was a great idea. Good luck.

Pam (09/15/2008)

By bzladi
Craft Uses for Old Jeans
I found some cool ideas too. If you take the worn-out knees off and patch the knees, you can use the threads of the worn-out part to make a funky fringe. I did it on my cousin's favorite cloth belt and she fell in love with it. I also took the seams, which are really sturdy, and made them into a bracelet that tied off with a small bit of blue embroidery thread. It hasn't broken and I've had it for ten years now.
If you don't want to look like you're carrying around a butt, no offense, you can take about ten inches off of the end of each leg and split it on one side. Then sew together both legs on one side and then the other. Remember to firmly sew the bottom so that nothing falls out. If you want the purse to be made out of denim and nothing else, use the jeans' waistband to make the handle. It works nicely and it's a bit lighter. You can sew on pockets in whatever way you like. There's a lot of really creative ideas on this page alone. (11/17/2008)

By Vera
Craft Uses for Old Jeans
I've used them to make a toilet top cover, window valance, toilet paper holder, bathroom rug, and decorated even the towel all for my bathroom set. (12/28/2008)

By Crimilda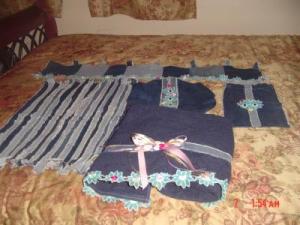 Craft Uses for Old Jeans
Here's a great idea: Blue Jean Quilt

Cut the jean material into squares all the same size, fray the edges sew them together below the fray line. Make it as big as you want. What a great funky look. (01/24/2009)

By karensheart