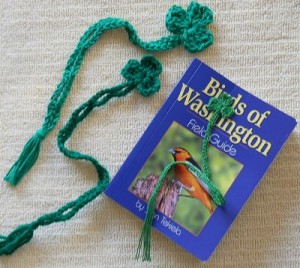 3 sizes of shamrocks ready for sharing of the green.
Approximate Time: 10 minutes
Supplies:
yarn or thread
appropriate hook for your choice of yarn or thread
tapestry needle sized for your thread/yarn
Large: worsted weight yarn
size H (5.0 mm) crochet hook
Medium: sports weight yarn or size 3 thread
crochet hook size F (4.0 mm) for yarn E (3.5 mm) for thread
Small: Size 10 thread
size 7 (1.5 mm) steel crochet hook
Sizes:
Large = 2 by 13 inches
Medium = 1 5/8 by 13 inches
Small = 1 by 12 inches
Stitches Used:
Ch = chain
Tr = treble crochet
Dc = double crochet
Sc = single crochet
Notes:
1. Read instructions all the way through before beginning.
2. I tried to find size 3 crochet thread in a good green, but it must not be the right season for "Christmas" green. So I settled for RH sports weight in Paddy Green. If you can find it, the cotton works up much nicer.
Instructions:
Shamrock:
Chain 4, join with a slipstitch in first chain to form a ring.
Work over the yarn tail as you work into the ring. *Ch 3, tr, dc, tr, ch 3, slip stitch in ring. Repeat from * twice. (3 leaves)
Bookmark Tail:
Ch 40 (S), 55 (M), 70 (L), sc in the 10th ch from hook to form ring. *Ch 4, skip 4 chs, sc in next ch. Repeat from * until 5 chains remain, sc in last chain.
Fasten off.
Weave in ends.
Tassel:
Cut 6 strands of thread about 6 inches long. Fold in half and draw loop through the ring at end of tail with a crochet hook. Draw the loose ends of the strands through the loop and pull them down tightly to form a knot. Trim ends of tassel evenly.
Optional Blocking:
If you used cotton thread or yarn, you probably want to block. Mix 1 part vinegar with 5 parts water. Wet the bookmark with the vinegar solution. Squeeze out excess and lay on a towel. Shape the shamrock and tail, allow to dry.
By Suzetta from Bellingham, WA