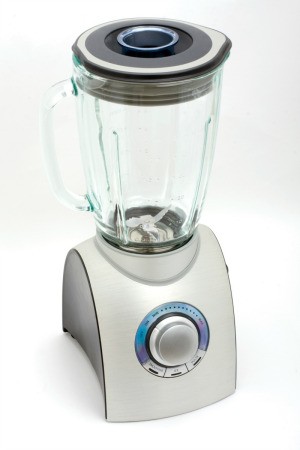 I've been married for 30 years and just got my first blender, a Hamilton Beach model 54615, this weekend. I wanted it mainly to crush ice, but I've not having much luck with that. (Even though I read internet reviews in advance and selected one that was supposed to do well with ice!)
I'm putting liquid with the ice per the directions and making sure that the ice is straight out of the freezer as the directions say, but the ice doesn't want to stay on the blades. I'm opening the blender every few seconds to manually place the ice back on top of the blades. Even then, the blender doesn't completely grind up the cubes. I'm also pulsing the blender as advised. Any hints you can give me would be much appreciated!
By Liz
Answers

August 4, 2011
0

found this helpful
Although you have already invested in the Hamilton Beach I wanted to let you know that the absolute best ice crusher I have ever used is the ice crusher attachment for the Oster Kitchen Center. You can buy them on ebay, as Oster no longer manufactures them and you can get all the different attachments there as well.
I have always had one in my kitchen and bought them for both of my children, who also love to cook (in fact I have two extra 'bases' for my own in case one of mine gives out). The Kitchen Center is truly the only appliance you need because it is a mixer, bread dough maker, and blender, plus has attachments to use it is a food processor, meat grinder, pasta maker, ice crusher and ice-cream maker that uses ice cubes and table salt rather than rock salt. I absolutely love it, and recommend it to anyone.
It is the only kitchen appliance I own besides an electric knife, skillet and crock pot, and have ever since they were introduced in the 1980's! The ice crusher on this appliance sits on top of the motor base and you just drop the fresh ice cubes in the top and the crushed ice falls into the bowl with no water needed to be added.

August 4, 2011
0

found this helpful
Try using the full amount of liquid and half the ice first. Throughly blend this then little bits at a time add the additional ice.

August 4, 2011
0

found this helpful
I have a Sunbeam blender and I found by adding water first, then the ice, it made great crushed ice. doogie's suggestion works great as well if it is for a specific beverage.

August 5, 2011
0

found this helpful
Get a Ninja Food Processor. It works great on ice. It's almost as fine as shaved ice if you keep pulsing it. We got ours from Target. It is not as fancy as the on advertised on TV but it's not as expensive either.
Just be careful of the sharp multi-blades, they can be lethal when cleaning. I now put them in the dishwasher, and store them back in the container right away to prevent injuries.
Read More

Answers