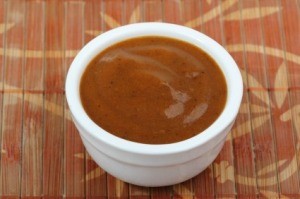 This works well with cold turkey, chicken or prawns and is ideal for picnics, gatherings or for even sprucing up those cold left overs after Thanksgiving/Christmas, and can be as hot or as mild as you like! Quickly made, it can be stored in the fridge for a day or so, so is easy to make in advance too!
It's smooth and glossy look makes it an ideal dish to show off with, just don't tell them how easy it is!
Ingredients
5 fl oz mayonnaise
10 fl oz plain yoghurt
1 Tbsp. of orange juice
1-3 tsp. of curry powder (I use one if children are going to be eating it)
2 tablespoons of tomato puree
pinch of salt
Mix everything until smooth, then add the meat or fish of your choice and serve.
By dragonsue from London, England
While traveling in Japan, I was served a delicious curry at a number of restaurants. It was dark in color and had a slightly soupy consistency so that one could eat it either plain or on rice. Does anyone please have a recipe for Japanese style curry? Thanks.
By Jean from Upstate NY
Answers
February 9, 2010
0

found this helpful
Mmmm, curry! I'm half-Japanese, and grew up on this stuff. This is what my mom and I use (the ones at the top of the page -- Golden Curry):
www.sbfoods.co.jp/.../saucemix.html
I think I've seen it in Target, but I'm not sure about Wal-Mart. I usually get mine at the Asian grocery store. *I* like the hot, but the rest of my family thinks it's too hot. So for them I usually get the medium hot or mild (note that they misspelled "medium" on their web site - funny!).
There are instructions on the side of the box. I use chicken that I've cut into cubes, but sometimes my mom uses pork. For the veggies, I usually use chopped onions, potatoes that I've peeled and cut into chunks, sliced carrots, and maybe toss in a few peas (to look pretty). I think my parents usually skip peas, because they don't like the taste in curry. Follow the directions on the box, and serve over some freshly cooked rice (preferably proper short grain sticky rice, not long grain).
Mmmm. So good. Especially when it's cold outside. Enjoy! :-)
February 11, 2010
0

found this helpful
If you are going to be using soy sauce, know that most of the stuff in the US isn't the real deal. Read labels. This may change the flavor you are seeking.
February 11, 2010
0

found this helpful
Here are two recipes I was able to find for Japanese Curry Roux:
3 Tbs butter
1/4 C flour
2 Tbsp garam masala (or curry powder)
1/2 tsp cayenne pepper (add less if you want it mild or more if you want it spicy)
fresh ground black pepper
1 Tbs ketchup (or tomato paste)
1 Tbs tonkatsu sauce (or Worcestershire sauce)
Melt the butter over medium low heat. Add the flour and garam masala, stirring until you have a thick paste. Add the cayenne pepper and some fresh ground black pepper and incorporate into the roux. Add the ketchup and tonkatsu sauce and combine. Continue to cook until the paste starts crumbling. Remove from heat and set aside until the meat and/or veggies are ready.
To make the curry, ladle about 2 cups of liquid into the roux then whisk until it's smooth. Gently stir until thickened and heated through.
Here's the other one:
2 Tbsp butter
1 onion, thinly sliced
1 tsp grated fresh ginger
1 tsp grated garlic
2 Tbsp flour
1 Tbsp curry powder
2 and 1/2 cup bouillon
1/2 tsp garam masala

Heat 1 Tbsp of butter in a skillet and saute onion slices on low heat until they are brown. Add garlic and ginger and saute well. Set aside. Heat 1 Tbsp of butter in a medium pot. Put flour and saute on low heat. Add curry powder and mix well. Add bouillon little by little, stirring well. Add onion in the sauce. Simmer the sauce until thickened. Add garam masala at last.
Answer

this Question