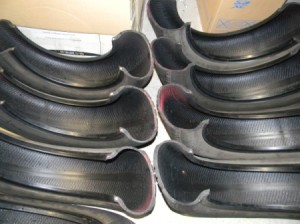 I was able to successfully cut through some old tires using a 7.25 inch circular saw, albeit one fitted with a relatively high-end blade (a 40-tooth 'Diablo' woodworking blade). There are blades designed specifically for cutting through metal, as well, but they're even more costly than the Diablo.
In any case, I was able to cut through the tires without too much difficulty using the circular saw. I had to cut across one side, flip the tire over and cut across the other, and then stand the tire up and cut across the tread in order to get the tire cleanly in half. The blade seemed to hold up well enough, as it cut through the fourth tire about as easily as it cut through the first one.
This is probably very hard on the saw though. I Wouldn't recommend it if you have more than a few tires to cut through. And I'm guessing it may not work at all using the cheap blades that come standard on most circular saws.
Also sparks will go flying everywhere when you do this. Eye-protection is a good idea.