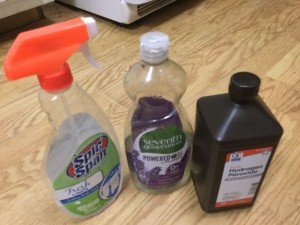 At one point I started making my own kitchen/all purpose cleaner because I wanted to save money and use simpler ingredients.
I take a spray bottle, put in a squirt or 2 of dishsoap, fill up the bottle halfway with hydrogen peroxide, and maybe add a few drops of lavender and tea tree essential oils, then the rest of the way with water. I'm sure distilled water would be best here, but I just do the tap.
I know people also use white vinegar, but I am not a fan of the odour.
The good thing about this cleanser is that, due to the hydrogen peroxide, you can see it froth up white when you are killing germs, which is very satisfying.