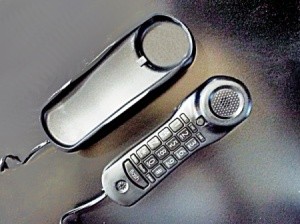 I just now got a call from a telemarketer. It was my first in a long time. I handled the call in the manner I usually do. I thought someone else might find my method useful.
My method is quite simple. I listen to the sales pitch long enough to hear the instruction to press '1' to speak with a representative. I press '1', lay the phone down and walk away.
I don't get upset or angry. I don't engage in conversation with the party, asking them 'How did you get this number'? or 'I'm going to report this call'. At this point, I'm in control. I call the shots.
After I've laid the phone down, a representative attempts to speak with me. 'Hello, hello'. Hello, is anybody there? Hello?'. After a few frustrated attempts, the representative hangs up. I've walked away. I don't hear any of this. A moment later, what I do hear is the loud busy signal indicating the call has been disconnected. Then I go and replace the receiver on the cradle.
I started using this method a long time ago when I was receiving many telemarketing calls a week. It quickly reduced the number of calls to zero for long periods of time. Rarely do I get such a call any more.
My method is simple, saves my hair, puts me in control and leaves the caller frustrated to the point he/she will probably tell their super to remove my number from their calling list.
Oh! If you are given the option by the caller to press a number to be removed from the list, don't! That's interacting, exactly what they want, and you can be sure they wont remove your number. They will keep it and probably sell it to another firm.
Just lay the phone down and walk away.