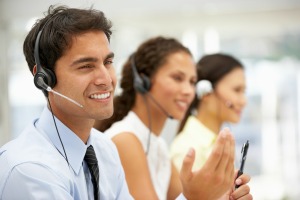 If you receive unsolicited phone calls and text messages even though you are on the Do Not Call registry, you can file a report with the FCC and post messages on these "Who's Calling Me" type websites. But there is something else you can do that will usually work even better and faster at stopping them; report them to the company who's phone service they are using!
Go to a reverse lookup site, I used www.numberinvestigator.com, and type in the phone number you received the call from. It will tell you where the call originated from and what service they used (the two I got today both were from T-Mobile phones in Ohio). Then, find the website for that phone company and find their Customer Service number.
Call them and ask to speak to someone in their "Fraud Dept". Give them as much info as you can about the call/text, including the phone number it came from and any phone numbers,emails or websites it lists.
It seems like a lot of these telemarketing calls and text messages are now coming from cell phones because it's harder to track them down. Most of these cell phone companies (and the regular phone service companies) have fraud departments and they act quickly to shut these people down when they get a complaint about someone using their service to make unsolicited, harassing phone calls or text messages. They don't like it, it makes THEM look bad! Not only that, when you sign the contract to use their service,you agree not to use it for these purposes.
I have had to do this in the past and the phone calls/text messages stopped almost immediately, whereas the report to the FCC just makes them aware of the problem but doesn't stop it as fast.
By Judy = Oklahoma from Tulsa,OK
Read More

Comments

I read somewhere that when you receive an automated phone call that there are some numbers you can enter on your phone and it mixes up the automation and can delete your number from the list. Has anyone heard of this?
Jane from Richmond, B.C. CANADA
Answers

August 10, 2006
0

found this helpful
Register at this website to be put on the national "DO NOT CALL LIST". It is free and really works, no more telemarkers can call you. I registered myself, my daughter and my mother's number and the results have been wonderful.
www.donotcall.gov/default.aspx

August 11, 2006
0

found this helpful
When a telemarketer calls you, you sometimes hear a click before they start talking. As soon as you hear this click, start punching the # sign on your phone. This not only scrambles your number with them, it knocks it off their list so they don't call you again!

Marjorie
Silver Feedback Medal for All Time! 290 Feedbacks
April 25, 2015
0

found this helpful
This is a free service to those annoying telemarketers or robocalls which are done by computer.
www.nomorobo.com/

Ginnee
Bronze Feedback Medal for All Time! 135 Feedbacks
April 25, 2015
0

found this helpful
Unfortunately, political and charity calls are not blocked.
Answer

this Question