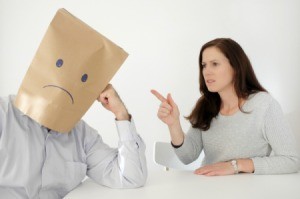 I'm a 41 year old male. I have a good job, I start work everyday at 4:30 am and get home around 5:30 pm. My wife is a stay at home mom that doesn't clean, cook anymore, etc.
She had shoulder surgery a few weeks ago and has had a sitter watch the kids most of the time. I give her baths and help her change clothes, I cook for the kids, I wash the clothes, clean the house, and do all other chores. By the time I'm done I get to bed around 12 am. Since she sleeps most of the day she stays up at night.
My father was just put into a nursing home yesterday because he has Parkinson's and has been making poor decisions. My mother asked if I could visit him and bring his laptop, a pillow and $10 for the nurse to use for a haircut and drinks. My wife was supportive of this before I left to go bring him these things so things were pleasant. Oh by the way my wife is abusing her pain meds that the doctor gives her by taking too much at a time. She is also diabetic and taking Lexapro.
I went to the nursing home to take the items and talk to my dad and after about 45 minutes there she starts calling me on my cell phone telling me it's time to come home. She called repeatly over the next 15 minutes until I finally left. On my way home which is only 3.3 miles away she starts texting me, cursing me, calling me names, telling me to eat s%#t, and don't come home etc. She is accusing me of giving my dad more than $10 which is a joke and cursing me and telling me she hopes I die.
When I got home and she just goes off with the cuts and the threats in front of our 8 year old and 4 year old girls upsetting them. Saying how her and her mother think I'm a worthless piece of crap and that I am giving all our money away to him. She doesn't stop cutting me down and this goes on until around midnight. I attempted to take children to their grandmother's house to get away from her screaming and crazy talk but their grandmother must have not been home since we rang the doorbell, beat on door, called her house, and cell phone. We had to go back home then. I came in and went to sleep in the kids' room with them. My wife stayed up watching TV and smoking and fussing. I woke up for work and she started on me again this morning with the threats and cursing and the hoping that I will die on the way to work, calling me worthless and telling me how much her family hates me and thinks I'm worthless also.
She may be sweet when I get home, I don't know, but she does this in spurts and I don't know what to do. She will not go to counseling because she is in denial, I don't want to get a divorce because I don't want that for my children. My parents are divorced, her brother is divorced, and her other brother is married but has a girlfriend that he says is his soul mate. Her dad works in another state and has been cheating on her mom for years, but her mom doesn't seem to care as long as he is getting paid. She also was married for 6 weeks before we were married. I have known her since she was 16, but it's like she is getting meaner as the years go by. What should I do?
By Michael
Answers

June 15, 2013
0

found this helpful
Hi....you sound like you are going through a lot! I think you wife is addicted to pain meds and she sound depressed. You are right that she needs counseling and maybe an intervention. You might have to give her options like if she doesn't get help then X,Y, or Z will happen.
You want to protect your children from this toxic environment. Does she need the pain prescription? Talk to her M.D. about what is happening.

June 15, 2013
0

found this helpful
You need to get a divorce for the sake of yourself and your children. I have rheumatoid arthritis and have had several surgeries. My husband takes care of me and has for 23 years, I would never think of abusing him and calling him names. I live with constant pain [with r. a. and lupus]. He cooks, does laundry and shops. He is a gem. You sound like a wonderful guy.
Your wife is mean and I don't think it is the pain meds. You need to put her in the hospital or a nursing home. Call her doctor and explain the situation to him. Read him your letter and ask for his help. You sound like a great person. Stop suffering. Your wife is metally sick.
Cathy

cettina
Bronze Request Medal for All Time! 64 Requests
June 16, 2013
0

found this helpful
Do you really think that you are doing the best for your children by letting them live in such an awful situation? Has it occurred to you that while you aren't there who are the logical people she would attack with her abusiveness?

Judy
Gold Post Medal for All Time! 677 Posts
June 16, 2013
0

found this helpful
It also seems to me that your wife has developed an addiction to her prescription pills. When a person comes off the drugs, she can get very moody. Discuss this with the doctor.
She will probably need professional help to stop. Once she is off the drugs, she can be evaluated to see if she needs mental health intervention.

June 16, 2013
0

found this helpful
First off, I am sorry if you are really feeling stuck. It sounds like your wife is bipolar and that is a threat to you and your kids. I would go to children's protective services and ask their advice. Do not give them your address or take your kids with you.
Then, seek some medical advice from her doctors and literally count the meds she takes. If she is over medicating, it can change her in ways you can't believe.
When my mom was taking 17 drugs every day, she accused me of sleeping with her 80 year old companion, and told everyone in the family that I threatened to shoot her. She was mean to the very people she needed to keep her alive but it never occurred to her that it was anything but us.
Protect your children at all costs. Read the headlines about people who are sick and cause tragedies that you can't ever recover from...esp' when you might have been able to prevent it.
If that means a separation to protect them and you, then do it. History of divorce be darned.
Good luck.

June 16, 2013
0

found this helpful
Michael, you need to talk to someone locally - a professional that can give you both support. Some options are clergy, medical & family counseling services - check local listings or ask your family physician for references. From your description of your wife's behavior, she sounds similar to me when I had severe PMS. I was worse the closer I got to menopause. One thing that concerns me is her abuse of prescription drugs. That adds another dynamic which my husband & I didn't have to deal with. Thankfully, I was able to keep my family intact until I "outgrew" the condition. If I had other health problems, I might have lost my husband and son. By the way, my son grew up without any obvious problems, but we never know the full impact of our behavior - good or bad - on children until much, much later. We were a family of faith so prayer was our source of help. I encourage you to try it - & I will keep you and your family in mine.

June 16, 2013
0

found this helpful
Your wife may have suffered a stroke. Get her to a doctor!

gem
Bronze Post Medal for All Time! 163 Posts
June 16, 2013
0

found this helpful
I feel for you. Call her Doctor and let him know what is going on. Believe me she will be grateful when she is off the drugs and by calling the doctor you are taking away the abusive substance she is taking and helping her in the long run. You know the old saying if you let the bird go and it comes back to you it was meant for you. But if it doesn't, things were not meant to be.
Good luck!
Read More

Answers
I am 42 years old. I've been divorced once. For my own bitterness issues, I dated my current wife for 4 years before we got married and even still I had not healed completely for about 3 years after that. That being said I had been pretty hard to live with up until the time I decided to quit living in a pity party for myself.
We have 3 children (the oldest is hers). She is a "stay at home mom" I think is what she calls it. It is something that I was never in the mix, as far as making that decision, when she decided that after our 1st child was born. She called her employer the day her maternity leave was up and said that she wasn't coming back. What else is upsetting to me is that "every" time we have a disagreement, it's as if she snaps and becomes abusive, hurling unwarranted profanity and insults, dropping the "F-BOMB" like it was common place. I know that I've have been difficult a lot when I was getting over myself, but I don't think that this is something that I have caused her to engage in. I have "never" spoken to her like that. Even more upsetting, she does all this in front of the kids! When I ask her to not talk like that, especially in front of them she starts all the more! Any suggestions?
By kj
Read More

Answers