Dealing With a Verbally Abusive Spouse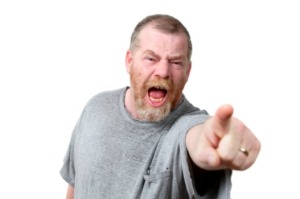 I have been married for one year and I have a son, not by him. I have moved into my husband's house with his son and daughter. It started three weeks after we got married. He just starts yelling at me if he does not like what I ask him. He has gotten in my face and chased me into the bathroom and raised his hand to me, but did not hit me.
Whatever the kids do, I am wrong and they are right. His son who is 21, wrote me a note and called me a dumb ass in the note. His son told his dad to divorce me. His son and my son had a fight with words and ever since then his son won't have anything to do with my son or me. I don't know what to do? I do not want to be treated like this, when he is nice he is really nice, but when he is mean I can not take it.
By Ann
Answers

Myrna
Bronze Feedback Medal for All Time! 168 Feedbacks
January 9, 2012
2

found this helpful
Best Answer
Avoid further attachment to this complicated Dr. Jekyl and Dr. Hyde syndrome this man has formed. Get out quickly and don't let on you're leaving. Verbal abuse can lead into hitting on you and your son too especially if he tries to defend you. You can raise your son on your own without his help and being subjected to this type of abuse long term is damaging. He's good at what he's doing and is playing on your emotions and his son is doing the same with you and your son.
It's a copycat syndrome; both of you leave. As far as feeling sorry for that man's son, he does need help from his father's damaging behavior toward his wife. Let the law take care of that, but don't you stay in this mess. It's only going to tear you down and you won't be much use for you or your son who needs an outlet if you remain involved.
Answer

this Question
40 More Questions
Ask a QuestionHere are the questions asked by community members. Read on to see the answers provided by the ThriftyFun community or ask a new question.

I'm a 27 year old, stay at home mom. I have three young girls that I love very much. I spend all day, everyday cleaning and taking care of my kids, but I also have a husband that can act like a child himself.
He has a good paying job and with it he also has control issues. My husband is not the sensitive type, he does not like it when I express my opinion, if he does not agree. If I am upset about something it usually starts a fight where I get called some pretty horrible things.
I'm not a bad person. I have tried for a very long time to make this work and keep my mouth closed, but it's so hard to not stand up for myself. Yet when I do he turns my phone off. He once even broke my finger trying to get keys out of my hand. I know I should leave, but that's just not a option right now with having nowhere to go. I don't want to be anyone's burden.
By melissa from Phoenix, AZ
Read More

Answers

I'm a 27 year old woman, my husband is 28. He and I have been married for 7 months. Right now I'm a stay at home wife and I can't work until a certain period. Before marrying my husband I had my own apartment, car, income from my family and was going to college. He graduated a semester ahead of me and I encouraged him to get a proper job since he was done with school. He did and moved to another city.
Then later I graduated, we got married, and I moved in with him to his apartment. He fully understood that once we got married I couldn't work for a while because we are sorting out my immigration paper work and he accepted that.
Now I live with him and my family has stoped supporting me financially since I'm no longer a student; now I'm a wife. I believe I'm a good wife. I cook, clean, do laundry, and make sure he's well taken of in every way I can.
However when we fight he doesn't fail every single time to tell me that I'm surviving through his mercy, that the food I eat is his, and the shelter I live in is his. So I told him that from now on I'll be buying myself my own food and I'll figure out my own share of the rent somehow. It bothers me cause I don't ask him for his money not even to buy deodorant. Instead when I need something I ask my family to help me with a little money for toiletries and they have been kind enough to give me $100 monthly for toiletries and I save from that money.
We have had a few big fights where he punched through the door because he was screaming in my face and I went to hide in the bathroom. After that fight he apologized and promised never to do it again, but I was scared and I came up with a silly resolution, to get a dog thinking that maybe it will help when there's tension and something that will kinda be in between us instead of just us. I did and even though he hated the idea he agreed with my reasoning. I did and now we have a dog and with the money I get from my family for toiletries I pay rent for my dog because she's my responsibility.
We decided to buy a couch. I used the toiletry money to pay for my share of the couch. I have bought a few pieces in the apartment with my money and he expects that I pay my share even though I'm not working. On top of that he likes to interfere with how I spend my money. He doesn't like when I buy things for the dog. I don't even know how much he makes and probably will never know, but I don't care.
After our last fight I asked him why he married me if all he wanted was a roommate cause it seems as if even though I'm not working he expects me to hold up my end of the bargain and it is putting me under so much stress. I regret being stuck in this situation cause I can't leave right now and I don't know how am I going to be able to take this for.
I love my husband and he is sweet when he can be, but when he is angry he turns the whole household toxic and it is horrifying. He has never beaten me, but seeing how violent he can be with walls and doors I worry and I feel like the situation is only getting worst.
Answers

Judy
Gold Post Medal for All Time! 677 Posts
February 21, 2018
0

found this helpful
Best Answer
This is an abusive relationship and is only going to get worse. He is going to start punching you instead of doors.
Let your family know what is going on and let them provide transportation back home. This man isnt going to change.

15mhhm15
Diamond Post Medal for All Time! 1,298 Posts
February 21, 2018
0

found this helpful
Best Answer
I know you mentioned a little background story about your situation, but how was the dating like with your husband, then boyfriend? Did you two date for awhile before settling down and getting married?
Do you know his financial situation? Are bills struggling? If he has always been like this then it does not seem like a good and healthy relationship. I would get out of it quicker.
But, since you mentioned your background story how you had your own apartment (not sure how that's being paid or how it worked out), car, income from your family - perhaps he was used to that until everything was cut off.
A different lifestyle and adjustment from him. Could be stress? Whichever the case it is best to communicate with each other and find the root cause.

haysie
Silver Answer Medal for All Time! 424 Answers
February 23, 2018
0

found this helpful
Best Answer
What ever you do DO NOT let your husband know you have written your situation on a "Answer a question" site, I believe that would anger him even farther . You are signed in as "byvines25" I am hoping that he would not recognize that BUT as you have explained in detail your situation as it is now I think he would see that it is address as him.
You need counseling so I think you should go to the proper authority and tell all to a person who is trained to help you in you situation.
I do wish you the best of luck, sounds like you are trying to make your marriage work.

February 24, 2018
0

found this helpful
Best Answer
It appears you are in a relationship with a person who has no respect for himself nor you his wife. You should not be in a relationship when you are mistreated daily. A man would not treat his wife that way so I believe you are married to a self control idiot. If you were my daughter I would ask you to seek counseling if that won't work become single and disengage yourself from this person. Be a happy camper and find someone who will respect, love, cherish, and honor you not take advantage of you. Be prayerful and I am wishing you the best I am glad you recognize this before children came into the picture.

Marg
Gold Feedback Medal for All Time! 520 Feedbacks
February 25, 2018
0

found this helpful
Best Answer
I believe all wife beaters start this way. It will get worse. If you can get out, go and please please don't ever leave the dog alone with him.
Answer

this Question
I am in this position right now that is horrible and very sad. I am 26 years old with one two year old and am a stay home mom, as well. My husband is a nice guy, but when we disagree on a topic, it is just not a pretty picture. It is also a problem even that I have questions to ask. It can never be about anything that I have a doubt about or, "hey what time you did you leave work?", because he gets mad.
Then the insults start right away. He expects me to either answer my own questions and keep my mouth shut or as soon as he says the answer to just leave it alone there and that's it.
I have literally broken in pieces and cried my lungs out so many times because I don't know how to deal with his insults. All I get from him is, "You cry because you want to; you're like this because you made this argument; you see the things you do; you can never keep your mouth shut; or you always have to be bitching about everything." This makes me feel even worse.
How would I make myself feel this way? If he could only argue without insults. If he could only tell me things without getting mad right away. This has totally confused me. I don't understand how he can say he loves me, but still talk to me like that and call me all kinds of names.
I am sure I can't stay here. I know this is not healthy and even worse for my baby that hears everything. I just don't find the guts to leave. I feel that leaving would be the only way for him to be happy and not have a bitch like he says living with him since everything is my fault. I sometimes do think is my fault, but I should know better not to feel or think this way, but is too hard.
I just wish I had learned a way to control, to block all the bad he has to say and eventually he will learn to not talk to me that way. We have recently started seeing a therapist, but it's really hard to explain our full arguments in just one hour. I feel as if he is not even working at a solution. He doesn't seem to care to try what she said. Even though he had promised to stop talking to me that way he hasn't at all and it happens every time. What should I do about this ? I know I love this guy so much, but it hurts to be here.
By Jess
Read More

Answers

I am looking for some advice. My husband is generally a good husband and father, but when we have disagreement, arguments, or if I don't agree with him, or something simply doesn't go his way, he insults me and calls me names. This happens when we are alone and in front of our son.
Every time we argue he always calls me stupid, moron, cunt, says I'm a joke, etc. Later on when he's calm I tell him it hurts when he insults me, and he agrees that it's wrong, but then he will do it all again when we argue. To him in the moment he's not doing anything wrong. Lately our son has been insulting me when things don't go his way, he will say all the same things my husband says to me.
I don't know what to do. I want him to see what he's doing and the damage it's causing. I love my husband and family and I want it to stop. How do I let him know?
Answers

DCA
Bronze Answer Medal for All Time! 220 Answers
February 13, 2018
1

found this helpful
Best Answer
A verbal abuser usually becomes a physical abuser, as well! You can try couples counseling, however, I doubt he will agree to go as he is always right so does not need counseling. I doubt he will support your single counseling; his verbal abuse controls you. If you just do as he says, there will not be any problems.
You son has a terrible father who is teaching him exactly how to treat all women!!!
If you love your son and your husband does not change, take your son and leave your extremely difficult situation!!!
Good Luck!!!

Lizzyanny
Bronze Feedback Medal for All Time! 226 Feedbacks
February 13, 2018
1

found this helpful
Best Answer
The number for the National Abuse Hotline is 1-800-799-7233. There are a number of very good articles on their website. Verbal abuse is abuse. Your husband is not just a good man with a little bad habit. He is an abuser. You have taken a huge step in asking for help. I admire your courage. You have what it takes to make a better life for you and your son. There is help available to you if you continue to reach out. Take that next step today.
Answer

this Question
Yesterday my husband and I got into an argument because my son left the lights on in his room. When I defended my son he then said that "my marriage was in danger". He always threatens me with divorce and end of the marriage. This has been going on for about 8 years now and slowly I don't care anymore.
I get a knot in my stomach when I come from a friend's house and have to go home. My son feels the same way. We feel as if we have to walk on egg shells. As I said, I don't care anymore, financially I am dependent on him. What do you think my action should be?
By Corrie V.
Answers

February 23, 2014
0

found this helpful
Best Answer
Whenever I hear a young woman now talk about getting into any type of relationship I urge them to make sure they have their own checking account or a fair sum of cash put away, in case they have to leave. Start at the beginning of the relationship or even before, even if it means putting a couple dollars away out of the grocery money each week. By now you would have a fair amount stashed away.
I know a young woman who, when she was about 30 was my employer, and she had an infant, one day when work was slow we got to talking about things like that. She said she had her own credit card, checking account, and a fair amount of cash hidden away with her parents. There wasn't one thing her husband, an attorney, could get his hands on other than his private checking account, credit card, and the household account. You don't have to be well to do, in order to put a little away here and there.
However, you don't have to be financially independent to leave. You can always take your son and go to a domestic abuse shelter. They help women get on their feet, with job training, finding a job, etc. Also you don't need to take a lot of personal belongings(clothing, etc. with you) because they have donated things that the clients can have.
When you are in one of these shelters your husband is supposed to be able to get hold of you. That being said, you also shouldn't call him and ask him to come and get you. It is entirely possible that once he sees you are brave enough to leave and not depending on you, that he will straighten out.

Louise B.
Silver Feedback Medal for All Time! 337 Feedbacks
February 24, 2014
0

found this helpful
Best Answer
No one should have to live "as if they are walking on eggshells". Leaving isn't easy, but it can be done. Find out about shelters in your area; perhaps you have family that would help out financially. Taking your son out of this toxic environment is the best thing you could for him; and he is old enough to be a moral support for you.Start making plans to leave. You will be surprised how empowering it is to take action.
Answer

this Question
I have been married for 9 months. My husband is often leaving his job. He in the teaching profession. I am also in the teaching profession. I have been working at a university for more than 5 years, but he is not able to stick with a job for more than 6 months. He does not take my words. He often abuses me. He has a male ego and is a male chauvinist. His upbringing is not proper.
He is not frank in his plans. He does not care for me. He wants sex for 24 hrs and he talks on it rather than our future. He changes for a certain period after discussing my issues, but only for a short period
My question is, how can he be moulded in career and family life and how to make him avoid his male ego and male chauvenism?
How to make him understand about married life?
By Pavithra from Chennai, India
Read More

Answers

I need some advice. My marriage of 17 years is falling apart. I cannot afford to live on my own yet. In May of 2006 I will graduate with my BA in social work and should be able to live alone.
Everything is fine until my husband drinks 6 to 10 beers in an hour-he fusses until I start to fight with him - then he blames me for the fight. He knows I will not back down from a fight - he will not stop his nightly drinking. I have to be with him unitl I graduate, do you have any suggestions for me?
I have a small savings account in my daughter's name. I cannot lock myself away because I am afirad he will knock down the door. He is not threat to my daughter. She lives with her father.
He is not prone to violence. He knows I have a temper and might act out. I think he enjoys making me angry. I just need to get through the next year without anymore emotiional scars.
Leconte
Answers
By Sharon,KY (Guest Post)
May 5, 2005
1

found this helpful
Dear Leconte,You made a statement at the beginning of your post which tells me you HAVE CONVINCED yourself that you can't afford to make it on your.I am a single mother of THREE and TRUST ME mine are grown now but with GOD'S HELP we made it--without the help of any abusive man.No,it hasn't been a bed of roses,but it CAN BE DONE. You seem to have your act together-- you're concentrating on the future but has it occoured to you that one bad fight could end it all for you? The first thing I would suggest if you're determined to stay in this is to get help with his drinking problem. Get down to the source of WHY he does this. Is he picking arguments because he is feeling jealous of your accomplishments or feeling shafted because he's not getting attention because you devote time to studies? Or is he just a jerk who gets a beer in his belly and has to start something? I'm certainly no Counselor , and ONLY YOU know the answer to these questions. THINK ABOUT IT and weigh out the situation. There are options if you want out while you can. Plenty of Government agencies will help you finish school and help you find housing. BUT the choice is ENTIRELY YOURS! There is no SECURITY in an abusive relationship. Don't convince yourself that there is. OPEN YOUR MIND to the situation you're living in, and just like you DETERMINED you would get through school now DETERMINE in your mind that you will take whatever steps are necessary to either heal a bad marriage or get out. As I said earlier, one bad fight could end everything for you, if Fear doesn't force you to make a decision , seems to me you'll stay for the long haul. ITS YOUR DECISION!! I'll be thinking of you and praying for you. One last but certainly MOST IMPORTANT is find a good church and pray for God's will in this situation.Matthew 5:44 says ..pray for those who persecute you." We serve a God whose love is stronger that of any Man. Good luck and God Bless You!!
Read More

Answers

I'm financially independent woman. I am married and have a daughter an year and half old. My husband is also earning but a little lesser than me. He is dependent on me for paying the rent of the house. He agreed to bring the grocery items. I do all the household work. He doesn't lift a waste paper and throw it in the dust bin.
He loves his daughter. Being a working lady I'm not able to concentrate on my daughter but I'll do whatever I can. Besides this I need to do cooking in the house. He never helps me and keeps abusing me for what I couldn't do. I'm not understanding how to get rid of him. I'm staying with him just for the society. I'm confident of bringing up my daughter at my own expenses. I can give her good education. But I really can't bear his abuses just for the sake of the money he is spending on the groceries. Please help me. And give a good suggestion.
Gayatri from India
Read More

Answers
I have been married for 25 years. Three months into our marriage my husband accused me of cheating on him, that never happened. Then he would say little things while we were out at footballs games, the mall, etc. like "Are you looking for your boyfriend?" On the night of my mother's wake I was asked if I was "doing" a co worker. He would call me crazy and stupid, several times a week. During the last three years he has mellowed out, but, I will mention I confronted him about texting another woman. Is this abuse, to be honest I really don't know, my counselor says it is.
By not for sure
Answers

December 12, 2014
0

found this helpful
Best Answer
This is called verbal abuse. Your therapist is right.
"Verbal abuse is the consistent demeaning of another. It may in fact take the form of angry outbursts. On the other hand it may take the form of cold, calculating, consistent put-downs. It may even take the form of disparaging humor.
The key to verbal abuse is the word demeaning. And the abuser may be a man or a woman."
Answer

this Question
My sister had an affair three years ago and her marriage has not been good since her daughter's birth 6 yrs ago due to him yelling, calling her names, and saying he wouldn't feed her. It just got worse when the affair came about. He constantly calls her names, threatens anyone that goes against him, goes into my sister's accounts and deletes things, and calls her names daily in front of kids. She has gone to counseling cause he tells her she's the crazy one because she cries from his words. She tried leaving a year ago, but he told her not to, so she didn't because he said she would never hear of the affair or be called names anymore.
Well 9 months later with a new baby it's still happening. He tells her she isn't his wife, kicked her out the bed (but still wants sex), makes fun of her, and says she is nasty. She tries to defend herself, but makes him angrier. Now if she has contact with men business wise he doesn't believe it and says it's another affair and he will make them all pay. This isn't half of what is really happening, but we tell her to get away and it goes right back to being able to support the kids.
By Cc
Read More

Answers

I have been married to my husband for 25 years. We started out rocky and it only got worse. By the end of the first year, he was staying out all night, drinking, and coming home and getting a couple of hours of sleep before he had to be at his post (U.S. Navy). He threatened me many times that if I gained weight, he would divorce me. One time, he didn't like what I said and he punched me in the arm. That is the only time that he has hit me.
Three years after we were married, we went through divorce court, after he had called me from Australia and told me that he never wanted to see me again. Before the divorce was final he had begged his way back in and we were together for 5 more years, before he took an unaccompanied tour. There he got into trouble and was dismissed from the military. I wanted a divorce then, but he seemed to have learned a valuable lesson and I felt that our children needed their dad around.
Over the years he has gone through the usual cycle of calmness and then the verbal and emotional abuse, even to our grown daughters. Since our last move to San Antonio, he has gotten worse. It is almost to the verbal level it was when we first got married. My oldest daughter says that he acts like he owns everyone. My daughters are so angry with him, but they do not want their parents to split. I am at my whits end and I really just need the peace now. I'm not sure how or what to do. Is there any advice that can be offered?
By Lana R.
Read More

Answers
Published by ThriftyFun.
© 1997-2023 by Cumuli, Inc. All Rights Reserved.
https://www.thriftyfun.com/tf64487922.tip.html