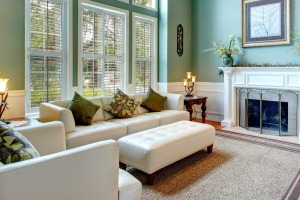 We just bought a new (older home) with a large living room and dining room in an L shape. The living room area is 20 feet long and 15 feet wide. The back wall is a solid wall into the dining room area and I have a large wall unit that I hope will look perfect on that wall.
I am stuck however with ideas for the rest of the room, as the room features 2 very large windows facing a beautiful garden. However, on the opposite side it has a floor to ceiling fireplace (not working) made out of some sort of flag stones. On the right side of the fireplace are built in bookshelves which can be useful, but I am at a loss as to how to make this awesome room show off all its great features.
I was thinking of putting up pleated window coverings on the large windows and since the windows are waist height maybe place a sofa in front of the window and work around that area with seating. That would leave 3 focal points in the room, the large wall unit, the large windows, and the large fireplace.
We still have to purchase new furniture, as our old would not get through any door. We would have to walk through the living to go to the dining room, but we are trying to make this a bit of a more formal living room. We have a den and rec room for visiting children and daily activities. We also have another access to the dining room through the kitchen.
Basically I am trying to make this a great looking comfy, but not cluttered room. I do not think that every corner needs to have furniture on it. Correct me if I am wrong, please. We are putting new carpet in as the room has hardwood floors, but I am just not a fan of it. I believe that I can do more or have better ideas when working with a solid coloured area.
The walls will be a light taupe colour (the fireplace stones are a greyish colour) and I am thinking of maybe painting them white, it has no shelf. I hope there is someone who can sort of "imagine" our space and has some great ideas, as they are all welcome. Your input is valued and very much appreciated.
By Britt from Ontario
Answers

September 2, 2009
0

found this helpful
How is your living room coming along? Are you able to post a few photos so that I don't have to rely on my imagination?
I am struggling with color choices for my own living room and found your post while surfing the Internet for ideas.
I'm interested in what you decided to do with your living room.
Answer

this Question