My wife and I recently purchased a new home. In the living room she wants to put a couch across the back corner of the room and cut off some the living space. I don't like this idea. Is is a good way to decorate the living room or not?
By H20DOG from Harrisburg, PA
Answers
March 26, 2010
0

found this helpful
Maybe, maybe not! Why don't you just try it out for a week or two? The beauty of furniture is that it can be rearranged!
Try your way and her way before you decide. You might find that you like the diagonal!
March 27, 2010
0

found this helpful
It depends. Many people will do this & put a large silk tree behind the couch along with several "up" lights placed under the tree & this shines wonderful shallows on the ceiling & wall. Sometimes these corner arrangements can make the room look even larger, but I myself have never been able to "break the mold" & do it, but I have seen my friends do amazing "angled" furniture arraignments!
You guys should compromise & find something you both like. After, all compromise is what good marriages are all about!
But, if you can't find something you both agree on. How about your each try your favorite arrangement for 1 month, then let your spouse try their favorite arrangement. Flip a coin to decide who goes first! Then after the 2 months are up, you can decide which arrangement was more practical.
Or, you can do what I have always done. Change your furniture arrangement every season, just to keep life interesting!
March 27, 2010
0

found this helpful
Diagonal Furniture Placement
Most furniture placement seems to follow the rule of place furniture along the walls or in larger rooms, place furniture parallel or perpendicular to walls. Why?
I think many rooms allow us to also place furniture and rugs at diagonals. Diagonally placed furniture creates a sense of excitement and contrast because it is unexpected in room design. Furniture placed in a diagonal manner suggests a causal style by cutting off the sharp corners of formal furniture placement.
In large spaces, furniture placed on the diagonal and away from the walls eats up lots of space. Regular sized rooms can actually be made to look larger when furniture is placed diagonally in the room.
While this decorating trick may not work in every space, consider where you can use it to perk up arrangements.
Why don't you all draw straws to see who wins?Or do as some suggest,keep it one way a month & the other way a month! Good luck.
March 27, 2010
0

found this helpful
I live in a house that has a glass front, facing a beautiful 30 acre pond. When I moved in, I decided to make that view my focus, which required that I either split my living area with my couch, or place my couch in the diagonal. The diagonal in my case works very well. I can sit on the couch and look left to see out my front window and look forward to see out the glass side of my home to the rear where the pond sits. I put a long table behind the couch the holds my lamp and decorations and I use the space behind to store my christmas tree - it works very nicely.
March 29, 2010
0

found this helpful
Give her a chance, and see how it looks when she is done decorating. You might like it!
March 29, 2010
0

found this helpful
We love our diagonal furniture arrangement!
March 29, 2010
0

found this helpful
I 'love' diagonally placed furniture! It's got style and shows creativity! You've been given lots of good advice here and I hope you'll keep an open mind :-)
Okay, now the humorous smart alec side of me needs to ask, "Just how much free floor space do you really 'need'?" ;-)
March 29, 2010
0

found this helpful
The advice I was going to give you after 40 years of marriage was to try it your wife's way for a month or so. If you really don't like it after that time, try your way for a month, and if all else fails just flip a coin to decide how it stays for good.
I love the saying one of the husbands has on Real Housewives of New Jersey: "Happy wife, happy life." Seriously, oftentimes this stuff matters more to women than to men, just something to keep in mind.
March 29, 2010
0

found this helpful
It would depend on your room's floor plan. Placing furniture on the diagonal can actually create the illusion of a larger room.
One of the worst ways to design a living room is to put all the furniture against the walls. It is so boring!
Answer

this Question

...
I have a room that is 15'x32'; the side that is 32' has ceiling to floor windows facing the lake and the mountain. The sides that are 15' have a center wall that is 5' wide and 7.3' high with no windows and another wall 32' that has no windows. I'm wondering where the best place to put the television would be? Also, where should I put the furnishings and get the best out of the view?
By CINDY from Mossyrock, WA
Answers
January 6, 2011
0

found this helpful
I think that I would put the TV in one corner of the room next to the window wall. If you put it anywhere else, you are going to get glare from the windows, won't you? And if you have a spectacular view, you don't want to have the drapes closed all the time. Face the furniture to take advantage of the view, otherwise, why have it. And if the TV is in the corner, you can therefore, see the TV and the view at the same time.
January 8, 2011
0

found this helpful
TV? What on earth do you want a TV in that room for? Get it out and set it in the shed!
January 16, 2011
0

found this helpful
Presumably it would need to be located near an outside wall, so if there is space on the window wall in a corner. Or create a corner with a dividing screen to prevent glare from the windows. A room with that much natural light is going to ruin your TV viewing. I'd put the TV in another room entirely.
Answer

this Question

...
This is my living room getting painted. It's quite small and I have to fit in my sofa, coffee table, TV unit, and on the other side the dining table, a console, and fridge. How should I align the furniture? What colours of upholstery will be more inviting yet will open up the space? I have a window beside where I plan to place my couch.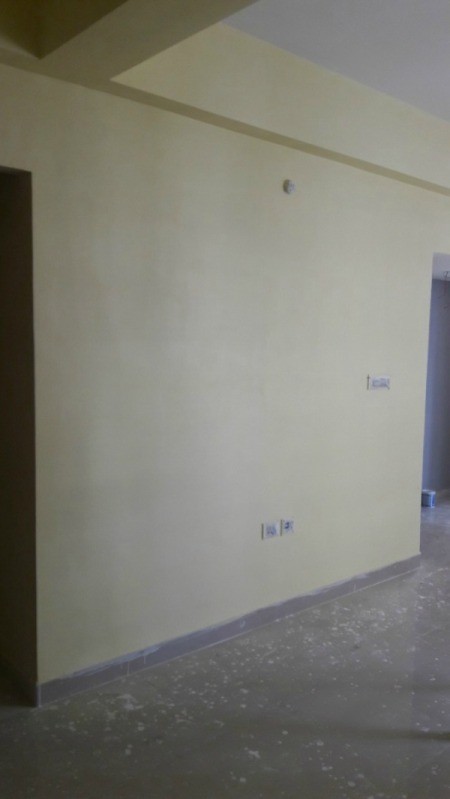 Answers
March 14, 2017
0

found this helpful
In a small room, you want to place the furniture as close to the walls as possible, without blocking any heat vents. Put the console far enough away from the dining table so that if someone pulls out his chair to get up from the table, s/he won't bang it. The refrigerator should be close to the kitchen as possible. Ideal kitchens have the refrigerator, oven and sink in a triangle, but you may not be able to accomplish this.
I would go with a light color to open the room. Put a beautiful mirror over your sofa to open up the room, too.
March 17, 2017
1

found this helpful
it seems this is a narrow rectangular room and will probably be pretty full with all that you mentioned but apparently all of this is necessary. I would recommend investing in at least one large rectangular mirror for behind your sofa and even a slightly smaller one to hang on one of the end walls.
Use of lighter sofa color (no chair?) with darker accent colors where possible. Try to have one or two tall lamps to brighten the room without having to use just an overhead light except maybe a panel of adjustable lights on wall behind your dining area.
Furniture placement is difficult to say because we do not know the actual measurements of the walls or your furniture. You may be able to draw your room on graph paper and make pieces for furniture and move them around to see what will really fit.
If you are not familiar with doing this, here is a site that is easy to follow:
Answer

this Question

...
I need some help rearranging my living room. We have a room that has several windows and is very difficult to work with. I am hoping to make this room a bit more cozy and inviting as well as improve the lighting.
The entrance to the room has a small place. The TV is placed in a triangular shape between the wall and the window as that is where the plugs are. The little wall like thing opposite the door is about 4 feet tall and I place a silk flower pot on it.
Please help with the placement of the couch, etc., to make it more inviting. We have two kids under age of 5.
Ann from CA

window---------fireplace-----------tvcorner w
i : T i
n : V n
d : : : d
o o
w w
: :
: :
: :
: :
: :
: :
d : :
o : :
o : :
r : :
: : dining area with a round :
: : table :
closet____| : : :
 : :
 : :
 :_____________________________:

Answers
By Marn (Guest Post)
February 9, 2005
0

found this helpful
At the left, top corner, infront of windows, place two chairs, angled towards each other \ / with a table and lamp inbetween. Float your couch with the back facing your eating table. This will also serve as a divider for your eating area. Hope this helps! I didn't want you to be lonely anymore.
Answer

this Question

...
I need help placing furniture in a 7 foot wide by 16 foot long living room with windows to the floor on the 16 foot wall. There is no wall across from the windows, but it opens into the hallway and kitchen. There is a 7 foot wall before entering the hallway and the other end is open to the front door.

By barbara from Jacksonville

Answers:
Advice for Arranging a Room
Boy, this is tricky, but I think you have to use rectangular pieces where you can, avoid circles as they will take too much space. Make a few conversation areas that you group to create separation. (09/08/2010)

By Allison
Advice for Arranging a Room
I would also avoid using oversized furniture pieces in this narrow space. I would take advantage of the windows if you have a lovely view of the great outdoors and hanging planters would be great in front of a few windows evenly spaced. A mirror on the other wall across from the 16 ft would make the area appear larger and bounce off more light. (09/09/2010)

By Myrna
I need help with a family room that is 13 x 20. The one long wall has a built in bookcase, fireplace and door. The wall opposite of this is a 6' double hung window and a set of french doors (that lead to a sun room) on either end of the wall. On the 2 shorter walls, one has a door entering to the kitchen and the wall opposite of this has a built in bar and closet. There is a 37" flat screen TV in the room. There is currently a sofa, love seat, recliner, coffee table, and end table in the room. Can anyone please help me arrange this room? Thank you.

By nancy from Durham, NC

Answers:
Advice for Arranging a Room
I'm not good at "seeing" things unless I can see them so. I would do like my very detail oriented husband does with everything. Draw a room to scale on graph paper, mark windows, doors, bookcases, and fireplace, cut out your furniture pieces to scale and move them around on the paper until it all fits and looks good. This is easier than moving furniture! (03/15/2010)

By Judi
Advice for Arranging a Room
I used to do that, only I didn't use the graph paper, I just measured out the sizes of the items in the room. I used 1/4 inch on a ruler for each foot of the items. Then when I was done using it, I would paper clip the items together and put them in a folder for the next time. (03/15/2010)

By Joan
Advice for Arranging a Room
I think it's on Divine Design that the host will give a quick idea for a question such as yours. Why don't you cut and paste your query to us to their site on HGTV.com? (03/16/2010)

By PENNY K
Advice for Arranging a Room
If you would just draw a picture of your room showing the placement of doors, the window and other permanent structures, and take a picture of your drawing, either post the picture on TF or email it to me I would be glad to help you. Arranging furniture is a hobby of mine and I think I could help you. (03/18/2010)

By Ann Winberg