Decorating a Bathroom
Solutions
Share on ThriftyFunThis page contains the following solutions. Have something to add? Please share your solution!
My son and husband really enjoy building things with Lego - so I decided to redecorate our bathroom in Lego for them as a Christmas surprise.

The LEGO website had some embroidered bath towels at clearance prices, so I bought one for each family member. I found a set of twin sheets on ebay - the flat sheets will become the shower curtain, and the pillow cases will become the cafe-curtains for the window. We have a small shelving unit with baskets for our personal items, and I will make liners for those with the leftover sheet fabric. I will probably take a strip and put it on the end of a solid colored hand towel. I am using some yard-sale find blocks to build a box for our tissue box to go in, and if I can figure out the logistics, may also do the same for a toothbrush holder.

To make the shower curtain, I will take the flat sheet and spread it out over the top of my existing shower curtain to check the size. If it is too long, I will keep the "cuff" of the sheet as the bottom hem, and cut off at the top, folding it over 3 times to form a new hem. If it is too narrow, I can take fabric from the fitted sheet and sew it vertically to make a wider panel. I will mark button holes in the new top hem to line up with my existing curtain and then put the rings through the holes. I am hot gluing bricks to the outside of plain clear plastic rings.
I will post photos when we get it all together (and the bathroom is clean!)
Questions
Ask a QuestionHere are the questions asked by community members. Read on to see the answers provided by the ThriftyFun community or ask a new question.
March 24, 2005
0

found this helpful
I am redecorating a bathroom and am going with a French theme. I will be writing in calligraphy French phrases. Does anyone know of any cute/quaint phrases that I could paint on the walls? I haven't found any useful websites!

Jessica from Illinois
Answers
March 24, 2005
0

found this helpful
You could try the Google Translate page to translate some English phrases into French. http://www.google.com/translate/
For example, I translated "Brush your teeth" into "Brossez-vous les dents".
I usually like to translate the phrase back to English as well to make sure that the translation is using the right sense of the words. Translating this phrase back to English yields "You brush the teeth" which is probably okay.
If you are looking for literary quotes you might do better searching for specific authors like Moliere, Alexander Dumas, or Victor Hugo.
March 24, 2005
0

found this helpful
"un bain chaud agréable" means a pleasant hot bath
"les serviettes douces duveteuses" means fluffy soft towels
"savons parfumés" means fragrant soaps
"se brosser les dents" means brush your teeth
"toilette" means toilet
"transmettre le savon" means hand soap
"shampooing de cheveux" means hair shampoo
"douche relâchant" means relaxing shower
Maryanne, not far from Quebec!
http://www.teapotcottage.com
March 24, 2005
0

found this helpful
How about "WEE WEE"
By Fran Marie (Guest Post)
March 25, 2005
0

found this helpful
FreeTranslation.com-put in your own phrases and set the translator 'English-French'.
March 25, 2005
0

found this helpful
You could always call your local high school and ask to speak to the french teacher.
I have noticed that internet translations don't always come out correctly when using Spanish, so I would double check everything before applying to the wall.
Holly
By (Guest Post)
March 25, 2005
0

found this helpful
Ferme la port, sil vous plait
Shut the door please
By kimmy (Guest Post)
May 13, 2005
0

found this helpful
bless this toilet!""
By loler (Guest Post)
April 6, 2006
0

found this helpful
Je pense donc je suis - I think therefore I am.
Read More Answers
My bathroom is small and has a blue tub. I want to decorate, but don't know what colors to use.
Help!

Read More Answers
I have a bathroom sink with no cabinet underneath and I need to know how can I pretty it up.
By DEBORAH from Warren, OH
Read More Answers
I am trying to decorate my guest powder room. It is kind of small with a pedestal sink, toilet and 1 towel bar. I am looking for a little floor cabinet or etagere, something simple, to store things in i.e. cleaning supplies, lotions, toilet paper, etc. Do you have any suggestions?
Onesummer
Answers
March 21, 2007
0

found this helpful
When we re-did our bathroom, we replaced the cabinet with a mach larger one with room for storage - but you could just put the cleaning supplies in a large decorative wasterpaper basket next to the sink. Or find a large basket with a lid.
March 21, 2007
0

found this helpful
We too have a small bathroom. What I did was get one of those wire shelves and put it high up (above my husbands head) on the wall and I keep a few towels & wash clothes neatly rolled up, and I keep one clear plastic container with cleaners, and one with the lotions & stuff. It's up and out of the way, but within reach.
March 21, 2007
0

found this helpful
What about the shelf stand that fits over the toilet? I have one that has one open shelf and two with sliding doors.
March 21, 2007
0

found this helpful
It might be possible to build a 3 or 4 sided shelving unit underneath the pedestal sink, out of laminated plywood. (Similiar to a hexagon shape, but the angles would form a half circular shape.) It could be a free standing unit so you would be able to move it if necessary. Then hang skirting around it that coordinates with your bathroom.
By Cathy (Guest Post)
March 22, 2007
0

found this helpful
Any ideas on how to clean/remove spots and stains from very old floor linoleum? It is the style installed in the 20's-30's that covers the floor with a pattern. It also has dried paint splatters on it.
March 22, 2007
0

found this helpful
In our powder room, We put up a nice oak cabinet on the wall above the toilet. Usually you see them over the toilet but they could go on another wall. It is an almost perfect match to the oak vanity. It has two doors and shelves inside and then an open shelf area under the two doors. It is sort of like a medicine cabinet but deeper. I find it handy for keeping OTC medicines, extra rolls of TP and the like. You can even store something on the top of it. We found it at Home Depot and it was around $65. It looks really nice while being very useful too!
Answer

this Question

...
We have a Victorian bath that the previous owners removed the claw type feet and used bricks and cement to build two stands for the bath to rest on. The cement around the bricks is rough and needs to be decorated in some way. They have cemented the bath in quite securely else we would remove the bath, fit legs onto it and put it back. Any ideas of how we could decorate the cement to improve the look? Maybe cement river stones?

Susan from South Africa
Answers
October 15, 2007
0

found this helpful
In Victorian times some vintage baths had enclosures. Could you put one up around yours? Or could you put decorative plaster coloumns underneath to mask the brick, and paint the brick white? I like the idea of river stones - but you would have to have a LOT of them...
October 15, 2007
0

found this helpful
What about seashells? I really can't picture what your tub looks like but could you hide the cement with potted plants? Plants that thrive in damp places like baby's tears, maidenhair ferns, or African violets?
October 15, 2007
0

found this helpful
what about wrought iron decore. wrought iron comes in so many shapes and designs. Most of the time its black but I had a small spiral staircase once that was for potted plants that set on each step. I spray painted it white and used the steps to set candles on for my bathroom. You could search ebay just put in the key words wrought iron. You'll more than likely see lots os sizes & designs that might fit around your problem area to camoflauge it beautifully. And wrought iron goes with that victorion look so well. I also saw somewhere but can not remember where now.Where they took 8X10 picture frames with any type picture of pressed flowers inside them and incased 4 of them around an object to cover up the area and it looked so pretty. With that idea you could paint your frames white and inside add vintage items that are flat like gloves, lace doilies, old photos jewelry, or tickets to give it a shabby chic look. good luck
By Eletha (Guest Post)
October 17, 2007
0

found this helpful
You could also use tile, if you have tile in your bathroom. If the cement is too small an area for tile, you could break the tile in pieces and cement them on in a mosaic style.
October 17, 2007
0

found this helpful
How about a cloth skirt around the tub, whole thing?
Answer

this Question

...
I want to decorate this bathroom with some kind of neutral or calm colors. The wall paint is called Ponytail which is in the richer beige shades and I'm not allowed to paint other color by landlords. I also have the same color walls in this master bedroom and turquoise/aqua color curtains. I am asking for any suggestions and ideas please?
Read More Answers
October 3, 2011
0

found this helpful
I recently moved into a beautiful older style farm house. The downside is that the bathroom counter top and bathtub is lined with pink and red tile (including mustard yellow walls). How can I best compliment the bathroom decor without re-tiling?
By Mari
Read More Answers
In my master bathroom, I have a green shower curtain with red poppies I want to know if it's OK to hang pictures of another flower? The colors coordinate!
By Debbie from Wind Lake, WI
Read More Answers
February 4, 2015
0

found this helpful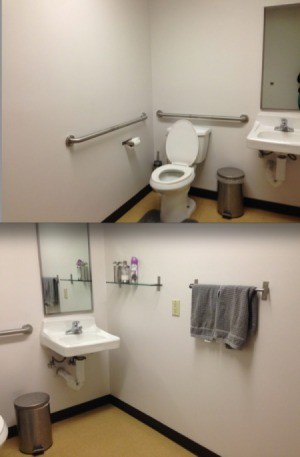 I need to decorate a pathetic office bathroom at a creative studio. It has no windows and beige, ugly flooring.
By Irene
Read More Answers
I just got a nickel finished space saver for the bathroom. How do I make it match if the shower door is gold?
By jackie from Brentwood, NY
Read More Answers
March 21, 2005
0

found this helpful
I was decorating my children's bathroom in tropical fish and when I tried to find some counter items to hold cotton balls and such I was less than impressed with the selection. Then I thought I would create some items so I went to my local Wal-mart and looked in the pet section for fish bowls.

The smallest was around 3 dollars. So I picked up 2 of them and while I was in the candle isle looking for a candle to go with the decor I noticed some glass bowls that looked the same as what I found in the pet aisle but at .77 cents vs. the $3.00 for the others.

I then bought some round glass beads found on the same candle aisle and hot glued them onto the bowls. so with a little imagination and luck I now have the perfect items for my bathroom, but at half the cost as it would have been.

By mommy3