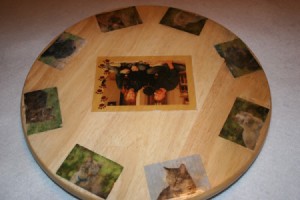 Decoupage is an easy way to place a photo on a wood surface.

Total Time: More than 24 hours
Source: This is a Martha Stewart Product
Supplies:
One photo printed on "regular" copy paper. Do NOT use a photograph printed on anything but copy paper!
wax paper
Martha Stewart Decoupage (There is one for light surfaces and one for dark surfaces. Choose according to what you are placing your photo on.)
Rustoleum Ultra Cover Clear Gloss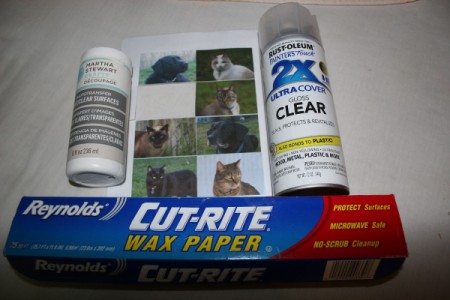 Steps:
Print out your photo.
Cut photo and lay right side up on wax paper.
Spread decoupage evenly over the surface of the photo.
Turn upside down (decoupage down on wooden surface) If you use something with a word, take this into consideration!

Wait 24 hours.
Use a sponge and water to wipe off the paper and the photo will appear.
Spray the clear Rustoeum over the wooden surface.
I would suggest trying this on a scrap piece of wood first. You will be pleased with the results of even your first attempt. As you can see, I used a lazy Susan and will be a welcome gift.
August 18, 2016
0

found this helpful
If your local craft store does not have that or any decoupage glue, you can get it from Amazon.
Keep in mind that pictures will be mirror reversed.
With most paint programs CTRL M mirrors the picture. That way Aunt Millie's tattoo is readable, Ernie's 7 hairs are combed from left to right, and your porch did not suddenly move to the other side of the house.
If you are in a big hurry and can't wait 24 hours, you can print the picture or sign with a laser printer, iron it on to transfer the toner, then dissolve and wash away the paper with warm water.
When done, dab it dry without rubbing, dry it some more with a hair dryer, and spray or pour clear sealer on it.
Some people get better results with one method, some with the other. Try both and see which one works better for you.
Have FUN!
DeaarWebby