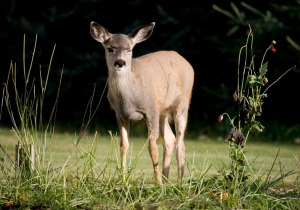 Q:
We enjoy having deer come into our backyard from the woods. If I planted a lilac bush, would it deter the deer from coming? Or do deer just not feed on lilac bushes?
Hardiness Zone: 6a
Sandy from Alton, IL
A: Sandy,
Lilacs will not deter the deer from coming into your backyard. No plants will. Lilacs are considered deer-resistant, however, meaning that unless the deer in your area are feeling pressure from a lack of available food, chances are they will pass lilacs up in favor of other, more appealing plants. Supposedly, plants like catmint, lavender, thyme, sage and rosemary are also repulsive to deer. In fact, many plants with a strong smell, like marigolds for example, are likely to act as a grazing deterrent when planted near more tasty plants like your veggies, tulips or hosta. The only sure-fire way to deter deer from exploring your garden buffet is to have your dog stand watch in the yard or erect an 8-ft high fence. So go ahead and plant a lilac bush, just understand that you could eventually find yourself enjoying watching the deer while they nibble on its branches.
Ellen
Answers

April 20, 2006
0

found this helpful
No, a lilac bush will not deter the deer. In fact, they will eat it. You will probably never see it bloom and it will remain about the same height it was when you purchased it. I know. Deer are the biggest pests I know of. If you enjoy the deer coming into your yard then you must not have any annuals, perennials or young trees in your yard. I have had to do a lot of protecting here in my yard in order to see my 'stuff' bloom.
By Guest (Guest Post)
May 3, 2008
0

found this helpful
Wow! That's extreme! I have had no problem with deer when it comes to herbs (except parsley) or, as stated, strong-smelling plants. I'm the woman sniffing leaves at the garden center. They have mowed down hostas and lillies, among other things, I spray particular favorites with a mixture of egg and water in a Windex bottle and this has worked very well for me.
Don't give up hope!
By Paul (Guest Post)
October 28, 2008
0

found this helpful
LOL! I found this thread while looking for info on how to deter deer from eating mylilacs during the winter.

April 28, 2019
0

found this helpful
leave them deer corn and they will leave the bushes and plants alone. I feed my deer corn and they have never eaten anything in my yard.
Answer

this Question
What plants can we plant in a cemetery plot that deer will not eat, we have been so unsuccessful so far?
By Yvonne

Answers

March 12, 2018
1

found this helpful
Depends on your location. If it was myself buried there, I would recommend my loved ones try a single dwarf (Lo and Behold or Blue chip) Butterfly Bush so I could be surround with butterflies, a few Shasta Daisies (3) and a few more Early Sunrise Coreopsis (5) or marigolds (annuals, would need to be planted each spring but would bloom all summer).

Judy
Gold Post Medal for All Time! 677 Posts
March 12, 2018
0

found this helpful
Deer do not like daffodils and poppies.
Answer

this Question
Is lavender deer resistant? What about heather? Any suggestions for plants, vines, or flowers that can be grown at high altitude (over 9,000 feet) and are deer resistant? I know it is a lot to ask of a plant.
Thank you.
By Tracy G.
Answer

this Question