I love recipes that are flexible, and this one has so many options. The muffins freeze well, and you have a quick breakfast that is healthy and inexpensive.
Prep Time: 10 minutes
Cook Time: 12-15 minutes
Total Time: 22-25 minutes
Yield: 12
Source: Mary Hunt website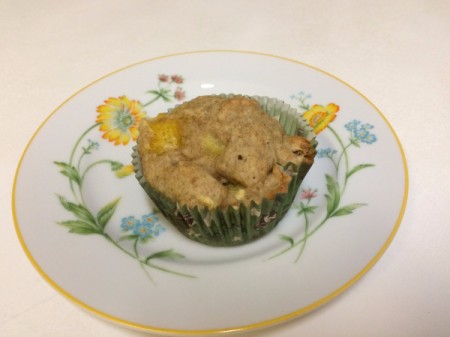 Ingredients:
1 1/2 cups all-purpose flour (I used half whole wheat)
1 tsp baking powder
1 tsp baking soda
1/2 cup buttermilk (I used 1/2 cup milk and 1/2 tsp. white vinegar)
1 egg
1/4 cup honey (used 1/8 cup stevia)
2 Tbsp butter
2 Tbsp applesauce
1/2 cup peeled and chopped fresh oranges
Steps:
Preheat oven to 400 degrees F. Grease or line a 12-cup muffin tin.
In a large bowl, combine the flour, baking powder and baking soda. Mix well.
In medium bowl, combine the buttermilk, egg, honey, butter and applesauce. Mix well.
Make a well in the dry ingredients, and add the wet ingredients.
Then fold in the oranges.
Fill the muffin cups 3/4 full.
Bake 12-15 minutes.
Cool on wire rack.
Optional Glaze: 1 cup powdered confectioner's sugar. 1/2 tsp. grated orange zest, and 1 Tbsp. orange juice. Whisk sugar with the zest and juice until smooth. Frost muffins while still warm.
There are so many substitutes for everything!
Buttermilk: Soy milk, sour cream, regular milk, yogurt, orange juice, apple juice
Flour: Can combine whole wheat or cornmeal. You can also substitute up to 1/2 cup cooked bran or rice cereal for 1/2 cup of flour.
Honey: maple syrup, white sugar, brown sugar, molasses, frozen apple juice concentrate
Butter: oil or margarine
Applesauce: pureed fruit or nonfat plain yogurt