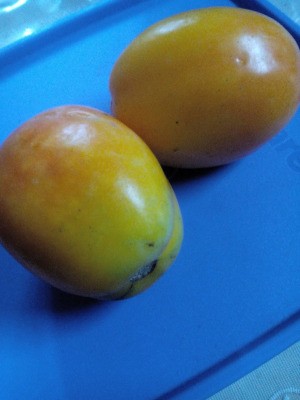 These are tomatoes freshly picked from the garden. We all know that tomatoes contain lycopene that improves heart health and prevents other diseases such as cancer and osteoporosis. But sometimes when vegetables and fruits are grown commercially, the products come out to the market in larger sizes, improved color and with smooth, shiny skin which indicates that they are being sprayed with chemicals to improve the physical appearance. However, such chemicals, can lessen the nutrients.
It's quite impossible for me to determine organic from commercially grown tomatoes as they sometimes look the same. Organic plants are those plants which are grown in a natural process and have used natural fertilizers.
Based on my own experience and observation, tomatoes which are sold at the market are way bigger than these tomatoes I just picked from our vegetable garden. You can also determine the difference on its skin as they don't usually come out to be too smooth and shiny, but that will of course be based on the type of environment. Also the taste is different, as these are sweeter and the flavor is richer. I once bought tomatoes that had a bitter-sweet taste that may have been caused by chemical sprays or pesticides.
I may have missed something regarding this topic. Anyway, this is just written based on my personal insights so feel free to share your ideas, too. Thanks for reading.