I am looking for diabetic cookie recipes.
By Steel from BC, Canada
Answers
January 26, 2010
1

found this helpful
Google Splenda recipes. Also read about cooking with Splenda. It is really not cup for cup as advertised.
I have found by trial and error that you can use 1/2 of what it calls for. There are plenty of recipes there. Best Wishes for your cooking adventure.
January 26, 2010
0

found this helpful
I've found that diabetic cookie recipes mention portions so small that you might as well use half whole wheat flour with half unbleached white flour, sub a little less brown sugar for white sugar and make a smaller regular cookie.
Eat slowly and figure out how to increase the fiber content (make oatmeal cookies).
January 27, 2010
0

found this helpful
They have fab recipes and complete breakdown of diabetic exchanges.
January 27, 2010
1

found this helpful
Chocolate Chip Cookies
1 stick butter, softened
1 stick butter substitute, softened (Like smart balance)
3/4 cup Splenda (Or Altern, Walmarts brand)
3/8 cup of Splenda Brown Sugar Blend
1 teaspoon vanilla
1 egg
2 cups Whole Wheat flour
1 teaspoon baking soda
1/2 teaspoon salt
1 bag semisweet chocolate chips (or sugar free Chocolate Chips)
1/2 cup chopped pecans
Heat oven to 375 degrees. Cream butter, butter substitute, and both sugar substitutes. Add vanilla and egg. Beat well. Add flour, baking soda, and salt. Dough will be real thick, almost like a biscuit dough. Stir in chocolate chips and nuts.
Roll dough into small balls, about the size of a quarter. Flatten into small disks. Place on ungreased cookie sheet, about an inch apart.
Bake for approximately 8 minutes, center will be a little soft. Do not overbake. Place on rack to cool.
August 28, 2011
1

found this helpful
Here is a great recipe for diabetic chocolate chip cookies you might like.
Source:
www.diabetic-diet-recipes.net/diabetic-dessert-recipes.html
Ingredients:
1 1/2 cups all-purpose flour
1/2 teaspoon baking soda
1/4 teaspoon salt
1/2 cup stick margarine
1/2 cup granulated sugar
1/4 cup light brown sugar - (packed)
1 egg
1/4 cup no-sugar-added applesauce
2 tablespoons low-fat (1%) milk
2 teaspoons vanilla extract
1/2 cup chocolate chips
Directions:
Preheat the oven to 350 degrees. Spray 2 baking sheets with nonstick cooking spray.
In a small bowl, whisk together the flour, baking soda, and salt.
In a large bowl, with an electric mixer at medium speed, beat the margarine until fluffy. Add the sugars, egg, applesauce, milk, and vanilla and beat 1 minute. Slowly add the flour mixture and beat until combined, about 1 minute. Stir in the chocolate chips.
Drop the dough by teaspoonfuls onto the prepared baking sheet. Bake until lightly browned, 14 to 16 minutes. Remove and cool on a baking rack.
This recipe yields 36 servings. Serving size: 1 cookie.
Exchanges Per Serving: 1/2 Carbohydrate, 1/2 Fat.
Nutrition Facts: Calories 72; Calories from Fat 31; Total Fat 3g; Saturated Fat 1g; Cholesterol 6mg; Sodium 66mg; Carbohydrate 10g; Dietary Fiber 0g; Sugars 6g; Protein 1g.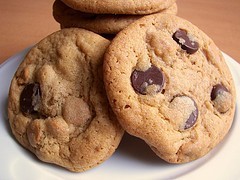 January 22, 2018
0

found this helpful
This is a very good recipe! I just made these using 1/2 c Lily's stevis sweetened baking chips and butter. I didn't have stick margarine.The cookies are delightful and a good option for an occasional treat.
Answer

this Question

...
I would like to make cookies for our neighbor who has helped our family out tremendously in little ways. I am needing some diabetic cookie recipes to make them, since the father is a diabetic. If anyone can share these with me it would be greatly appreciated. Thank you in advance.

jmz2005 from IL

Answers:
Diabetic Cookie Recipes
Here is my favorite peanut butter cookie recipe and can be made with sugar or for sugarfree use Splenda, not the sugar blend, but the other. As you will notice, this recipe also contains "no flour".

Low-Carb Peanut Butter Cookies
1 cup peanut butter (smooth or chunky), you can even use carb-conscious
peanut butter.
3/4 cup Splenda or 1 cup sugar
1 large egg
Mix all three ingredients with a spoon until well combined. Drop by heaping
teaspoonful or even tablespoonful on an ungreased cookie sheet. Use a fork
to squish them down to the height you like. You can make the traditional
crisscross pattern with your fork or vary it. Bake at 350 degrees F for 10 to 12 minutes.

You can decide how browned you like your cookies. Let them rest on the cookie
sheet for a few minutes before you remove them, or if they are medium rare, they
might fall apart. I like mine chewy so that's how I do them. This recipe will make
about a dozen cookies depending on how large you make yours.

Harlean from Arkansas (12/12/2006)

By Harlean
Diabetic Cookie Recipes
Here is another cookie recipe from my files.

Sugar Free Oatmeal Cookies
Combine and beat:
1/4 cup butter, 1/2 cup oil, blended
1 cup Splenda
Add 2 eggs and beat until light
Combine in separate bowl:
1 cup flour
1 cup oatmeal
1 teaspoon cinnamon
3/4 teaspoon nutmeg
1 teaspoon baking soda
1/4 cup sour milk (or 1 teaspoon vinegar and enough milk to make 1/4 cup)
Add dry ingredients and milk alternately to egg mixture. Beat well. Add optional
ingredients.

Optional:
1/2 cup raisins
1/2 cup chopped nuts
Make balls about the size of a walnut. Place on greased cookie sheet. Press down with a fork.
Bake about 15 minutes at 400 degrees F or until golden brown. Slide cookies off onto paper towel to cool.
Store in tightly covered container.

Harlean from Arkansas (12/12/2006)

By Harlean
Diabetic Cookie Recipes
Chocolate Cookie Drops

Cream together 1 stick softened butter, 1/3 c Splenda, 1/4 c Splenda brown sugar, 1 egg, and 1 tsp vanilla. Then add 1 c + 2 Tbsp flour, 1/2 tsp soda, dash of salt, 2 Tbsp milk, and 3/4 c Hershey's sugar free chunks.

Bake at 375 degrees F on non stick sheets or parchment for 5 to 7 minutes (You can add walnuts if you wish)

My friend Amelia at TOPS gave me this recipe and a few samples.
(12/15/2006)

By Carol
Diabetic Cookie Recipes
I personally much prefer to use a natural sweetener, as it is much easier for the body to digest, and has no health risks due to the fact that it is natural. I use Xylitol, but there are several different ones that you can try. Xylitol is the same sweetness as sugar and has 30% fewer calories than sugar. (03/09/2008)

By Sarah
Read More Comments
Do you have any recipes for Diabetic Cookies, etc.?

Jane from Richmond, B.C.

Answers:
Diabetic Cookie Recipes
Any recipe that calls for 'granulated sugar' you can substitute Splenda sweetener for. This is what I use and I've had nothing but good results. If the recipe calls for 1 cup, I use 3/4 to 1 cup of Splenda. Also, if the recipe calls for 3 cups of all purpose flour, I'll use 2 cups of all purpose flour and 1 cup whole wheat flour. I don't substitute all the 3 cups of all purpose flour with 3 cups of whole wheat flour as the finished product will be coarse and dry. With this finished product, Santa will have to have the whole carton to drink with it, instead of just a glass of milk, LOL. (12/23/2005)

By badwater