January 23, 2005
0

found this helpful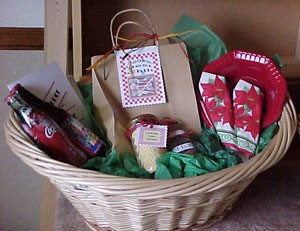 I would like to suggest a theme basket that I did for Christmas this year that earned me many compliments. My theme was dinner and a movie.

I had a gift bag with ingredients to make a chili (tomato sauce, chop tomatoes and pinto beans) I decorated the front of the bag with the cooking instructions. I made up the spice mix and put it in the inexpensive spice jars that look like mini canning jars. I included a jar of corn muffin mix (either my own recipe or use Jiffy) Instructions were tied around the cap. I added honey sticks (not shown in picture), and beverages suitable for recipient. (I did wine and included plastic wine glasses that I did a quick bead deco on the stem.)
For dessert I had a tin of homemade fudge (could have been cookies - Not shown in picture) I included foam bowls, holiday napkins and plastic spoons. For the movie, I went to my local dollar store and was able to pick up classic movies at a very cheap price. I have noticed that Wal-Mart also has $1.00 DVDs. I used Alfred Hitchcock movies and Red Skelton shows.I also included microwave popcorn to enjoy with their movie. I made up a little booklet that had the dinner menu and a review of the movie and a biography of the director.
I put everything in a large reed laundry basket.(WalMart-$4.00) Cost of gift--under $20.00
- Cindy
Comments
By joan (Guest Post)
January 23, 2005
0

found this helpful
thanks for a wonderful and thoughtful gift idea.
January 23, 2005
0

found this helpful
Hi Cindy
Great Idea! Loved the picture also.
Kathy
By Terry (Guest Post)
January 23, 2005
0

found this helpful
I just Love this Idea,it could work for a birthday or anniversary too!! I have a few of those coming up and will use this idea! THANX
January 24, 2005
0

found this helpful
How creative!! I think I'll use this in the future! Thanks Erica
Read More Comments