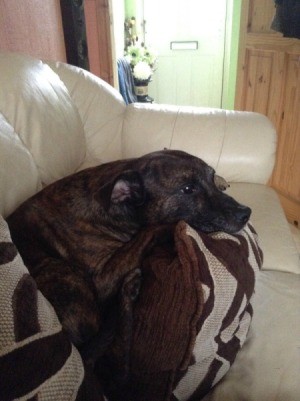 My dog is 10 and I just smoothed his tail and all down it are bumps and I'm so worried. He is a cross Staffy who is my world. He sleeps with me and eats with me. The only thing he doesn't do is wee with me.
He's another son, as I've got two sons. He's our baby of the family and he's so loving and gentle it's just unbelievable, but that's his nature.
We got him at 5 weeks old and his mum was a full black Staffy. We had a cat, all black, and Shankley my dog followed him around for weeks trying to suckle of him and my cat Marley was so cool about it. I thought it was so cute as my cat was kissing and cleaning him. They grew older together. My cat sadly passed a few months ago and Shanks has been missing him really badly. We have a grave and we go there, down at the bottom of the garden and I'm just so upset to think my boy will go too.
How people are nasty to animals it beats me, as my dog Shankley is my son and I will love him with all my heart for the rest of his life, but it will hurt me for mine.
Sorry for being so, um, what's the word morbid I think, but my son/dog Shanks is my baby. Thanks for letting me speak my thoughts.