My 2 year old chihuahua/rat terrier mix, Maxine hasn't been eating her dog food lately. She goes outside and lays there and eats grass. I know grass-eating is common but she's not acting the same. I took her to the vet yesterday and they said she just had a mild upset stomach and they said she'd start eating by the morning but she's not. Any suggestions?
Mira from DC
Answers:
Dog Not Eating
Does she play? Will she eat something that is not her regular food? when ally gets an upset stomach with the diarrhea and vomit I boil chicken and rice. Very plain and I give it to her a little bit at a time. Within 2 days she is OK. Then I wean the regular food back in. Did your vet say what to feed her? This is what my vets have always said to do. (09/03/2005)

By sandy.
Dog Not Eating
The miniature cocker spaniel that we adopted at the pound had the same problem. The vet says she has irritable bowel and sometimes just won't eat - the vet gave us a few suggestions: One was to pour some beef broth over her dry dog food - that worked for awhile - then she wouldn't eat again....next suggestion we still do today - we mix about a tablespoon of canned dog food - a special blend the vet only has for dogs that won't eat - It's called Prescription diet a/d and is for dogs or cats....we put this on her dry food - which is Hill's Science Diet Advanced Protection for adult dogs 1-6 and mix it up and she will eat it all up. Very fussy little dog, but she is well worth it. Hope this gives you some ideas.
Good luck with your dog. Oh, and we also give her Pedialite (like you give babies) instead of her water in her dish when she has spells where she doesn't feel too good and that helps too. (09/03/2005)
By Starlight
Dog Not Eating
Did they do x-rays or bloodwork? If not, I'd call them back and request that either test be done.
Has something happened to make her upset or depressed? Any kind of changes to her diet, or in the household?
I was just wondering how they determined that she only has a mild upset stomach.
Good luck! (09/03/2005)

By Maryeileen
Dog Not Eating
Get a new vet! An animal not eating is sick. (09/03/2005)

By aardvark
Dog Not Eating
I agree that if this goes on for more than a couple of days, you should find another vet who will do all the necessary lab work, etc. and won't give up until the problem is identified. In the meantime, make sure that the dog gets plenty of water. If she won't drink, the vet should put her on an IV. Dehydration is more worrisome/dangerous than not eating. (09/07/2005)
By Claudia
Kennel Cough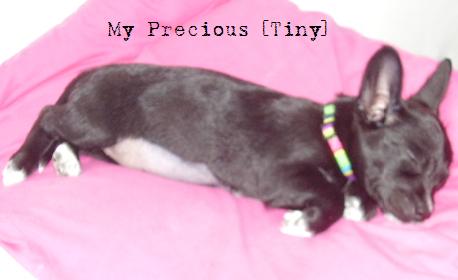 On monday (11-7-05) i rescued my dog tiny from the Animal shelter. She was a bit shy but she was a hyper lil 2 month Terrier Mix. she's just adorable. By Tuesday Night she started coughing. I thought she has something stuck in her throat so I let it be. On Wed, she was doing it but worse. I took her to the vet. The vet said she was anemic and that she has kennel cough. Eventually, she said, she was going to be throwing up green mucus from her mouth and her eyes. I have seen it from her nose and eyes but not throat. She has stopped eating! She's not hyper all she wants to do is sleep. She likes to sleep on my bed. I am giving her medication that the vet gave me, and I'm scared it will do her bad if she does not eat. What can i do? (11/11/2005)
By Bl0ndie.
Kennel Cough
Here are some links about Kennel Cough
http://www.peteducation.com/article.cfm?cls=2&cat=1611&articleid=452
http://www.vetinfo.com/dkcough.html
When she's feeling better she'll get her appetite back. Best Wishes for a full recovery and lots of fun with your new little one.
Susan from ThriftyFun (11/11/2005)

By ThriftyFun
Dog Not Eating
Some of these symptoms sound like the dogs could be sick. GO TO THE VET.
There can also be psychological issues as to why they are not eating. Look at http://www.dogpsychologycenter.com/ or http://www.dogchannel.com/experts/cesar/.

I have used many of Cesar Millan's techniques with my dog and it works. He had a dog on the show that would not eat and it was mainly because he was not exercised and had lost the desire to eat. Good luck to the owners out there and the dogs, too! (08/26/2006)
By wyoKrista