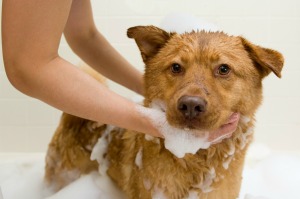 I have a 10 month old English Bulldog and 2 days after a bath he stinks my whole apartment up. If you pet him your hand stinks terribly. I am literally sick. I've tried everything that I could think of. If anyone knows of a good home remedy to help get rid of this odor please share. I need some help.
By Ava H.
Answers
May 7, 2013
9

found this helpful
Does he scratch constantly? Does the fur on his head feel greasy? If yes, it sounds like your dog has seborreah which is a genetic problem and horrible to deal with. People would walk in our house and ask "what's that smell". I cleaned constantly and couldn't make it go away. After spending close to $5,000 over a three year period for medications, including steroids, vet bills, medicated shampoos we finally have it under control. There is no cure. If you find out that this is what your dog has and you would like my advice on how to control it, pls e-mail me back and I will explain it to you. Our dog is a rescue and we love him to death. It is so good to see him no longer scratching.
November 9, 2015
1

found this helpful
Our dog is also a rescue and seems to have the same thing. His greasy, waxy place is on his back though. What did you do for it?
November 16, 2015
9

found this helpful
Hi, I am having the same exact problem with my peek, no matter what I do, she stinks, constant scratching, and her odor is so bad that it sticks with you. Please help. Ty
May 31, 2016
1

found this helpful
Hi. I have a Rhodesian ridgeback mix. I brought him back from Costa Rico. He seems to have this skin problem frequently. I thought it may be due to the change in environment. We currently live in Sacramento, ca. Any help will be appreciated
June 14, 2016
2

found this helpful
My dog does the same thing please help
June 18, 2016
4

found this helpful
My dog is half English Bulldog and half lab. We have been using medicated shampoo about every 4 days yet she still smell ands can't stop scatching, what was your magic to help your dog feel better?
June 30, 2016
5

found this helpful
Please let me know how you got rid of the smell my dog is 6 yrs old 1/2 rottweiler and 1/2 pitt bull.
June 30, 2016
4

found this helpful
What can I do to get the stink off my dog? Do I need different food for her?
Read More

Answers
My 75 day old Golden Retriever puppy is getting a very bad odour. It's smelling very, very bad and huge. An hour after bathing the smell is gradually starting again.
Answers
August 18, 2020
0

found this helpful
Best Answer
If you have already started your puppy on their first year shots/vaccinations with a vet then you should be able to call them and ask for advice.
This bad odor could be serious so you do need to find the source/reason.
A large percentage of bad odors are caused by problems with their anal glands.
Here is a comment from a vet on this subject:
"The most unpleasant source of dog body odor lies in the anal sacs. These glands can become impacted and need expression to remove natural fluids. This may be the most obnoxious smell known on earth, so if your dog starts scooting its butt on the floor, head to your groomer or veterinarian to have the glands emptied."
If you have a groomer you might call them about a visit but if this problem continues (still a puppy) you may have to learn how to expel this yourself (easy to do but not always pleasant).
Be sure your puppy is on a planned first year program with a vet.
August 18, 2020
0

found this helpful
Best Answer
The dog could have a skin allergy that is causing this problem. It could also be from the food he is eating. You can eliminate this order by mixing some baking soda and cornstarch together and put it on the coat of the dog. They call this a dry dog shampoo and it works excellent to get rid of the orders from a dog. I would also like to suggest that you speak to your vet about this because it could be something more than just order and it might need treatment.
Answer

this Question
My dog always stinks. I give him a bath and a day or two later he stinks, what can I do?
By Gina

Answers
August 7, 2010
0

found this helpful
He may have a fine undercoat that won't let him get wet to the skin (we have 2 dogs like that).
The next time you bathe him, put just a very small amount of pine oil type cleaner in the tub, not more than a tablespoon, and that may help keep the odor away longer. The only way I was able to clean the 2 with the fine undercoat, was to shave the hair down, then bathe them.
August 8, 2010
1

found this helpful
Try a paste solution of water and baking soda.
It's delicate, softens skin, reduces itching, and rinses clean, and it's super inexpensive. I remember seeing this as a solution for stripping product buildup from (human) hair. A tip from a famous hair stylist.
August 10, 2010
0

found this helpful
The dog may be allergic to his food. Try a different food and if it still smells see your vet. I had a friend that had a Golden Retriever that was allergic to any food with a corn base to it.
August 10, 2010
0

found this helpful
I had the problem answer but just as I was about to send it the site timed out. Your dog has sebhorea and you must get a special shampoo or pills which ever your vet recomends after a blood test.
August 13, 2010
0

found this helpful
First I would make sure it's not an organic problem. Check with your vet to make sure there are no underlying medical issues such as disease, allergies, etc. If that is clear, examine your dogs diet. It may be something that you are feeding him is causing an odor.
June 2, 2013
1

found this helpful
Your dog may have YEAST...that would make him smell (and itch).
You can checkout Nzymes.com. Giving my dog that AND giving him a grain free diet has helped us with this issue.
Read More

Answers
My dog Gizmo, a Shih Tzu, stinks 5 minutes after I give him a bath. I do not know why?
By Tyler

Answers
Read More

Answers
My dog smells a day after being given a bath. I have 3 dogs and feed them high end food.
By Jjp

Answers
April 5, 2014
0

found this helpful
It's possible that his anal glands need to be expressed. When they need to be expressed, it doesn't matter how often you give him a bath, the anal is still giving off the odor. You can do it yourself (look it up on youtube to see how), take him to the vet, or take him to a groomer.
Answer

this Question