I recently brought my dog Simba which is a Yorkie to a groomer and she told me he has a severe ear infection one that is hard to get rid of. I know that it will cost a lot and I am not financially stable enough to afford it. I want to know if anyone can give me ideas on what to do? Please help! I hate seeing him in pain.
Katelyn from Minneapolis, MN
Answers:
Dog With an Ear Infection
There are NO effective home remedies for infections of any kind. Humans and animals can (and have) died from infections.
For financial aid, try the ideas on this link:
http://www.hsus.org/pets/pet_care/what_you_can_do_if_...
I know from personal experience it can be tough financially. I've sold items (including a computer !), gone without cable and internet for months, and once I even went without electricity for 3 months in order to pay for vet bills.
Perhaps you can sell some things on Craigslist, at a yard sale, get a part time job.
In the meantime, borrow the money if you have to in order to get your dog to the vet for an exam. An ear infection not only causes pain, it can cause deafness, problems with sinuses, problems with the brain. It's serious!
We as pet owners need to be responsible and make the right choices.
Take care, do the right thing, and be blessed. (01/22/2008)

Dog With an Ear Infection
I also have Yorkies. By no means is my solution below a replacement for getting that infection taken care of by a vet. However I do have a preventative measure that works with my two little best friends as they did had continual ear infections. Once you have the infection cleared up by a vet try a tablespoon of pure organic yogurt. I give the tablespoon of yogurt to mine about 3 days in a row, once a day, twice a month. They have never had a ear infection since I have done that. At first it did affect their bowel movements but that passed and now I don't have any messes. Again this has been a preventative solution that worked for me, I do not believe that it would work after the onset of an ear infection. (regular yogurts with additives do not have enough of the bacterial cultures to be effective). Ear infections are serious as most of us have known the pain and the damage that an untreated one can have. I have attached a pic of my two love bugs to hopefully make you smile. (01/22/2008)
By D Kay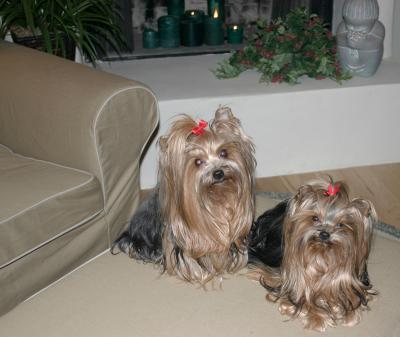 Dog With an Ear Infection
My dog had a severe infection last month also. It did cost me $95 total: $14 for the bottle of eardrops and $7 for the antibiotics. Tresaderm drops stay in your refrig. 5 drops 2x a day and 1 pill 2X a day for 2 wks each. After 2 weeks, my puppy was doing great! There is still a lot leftover of the drops, and the vet told me to hold onto it in case it comes back 6 months down the road.
I had gently used a Qtip on the open part of his ear to get the 'guk' out but you don't go down in. Leave that to the doctor to do.
It all depends on what type of infection. Definitely take him to the vet and ask for a payment plan on the visit if you have to. In the past I wasn't able to afford it either, and they put me at a low pay plan per month to pay for the expense.
blessings! (01/22/2008)

By cheryl
Dog With an Ear Infection
If there are any vet. schools in your area, see if you can get your dog treated at a lower price there. Good luck! (01/22/2008)

By Nance
Dog With an Ear Infection
There are many different kinds of ear infections in dogs. If a dog has a yeast infection there is dark brown stuff in the ear canal and a very distinctive odor. For this type of infection, I swab the ear canal out, going no further than my index finger can reach with a mixture of half and half cider vinegar and water on a cotton ball or a piece of cotton. I then apply an application of Wal-mart's brand of Miconazole for vaginal yeast and fungal infections. I repeat this at two day intervals and as it responds and gets better, once a week. This should work o.k. on yeast and fungal infections. Did your groomer state what kind she thought it was? Even after you clear up this infection, it is always there and requires careful monitoring.
Hope this helps. (01/22/2008)

By woofey
Dog With an Ear Infection
I owned two older cocker spaniels who suffered with ear infections in their late years. The vet sold me ZYMOX for their ear infections. You fill the ear canal, rub the ear and wipe off excess from the outer ear. Apply ten days for severe ear infections. DO NOT use liquid ear cleaners or other home made remedies while using ZYMOX. The liquid remains trapped in the ears and greater problems result. ZYMOX worked well with my dogs and I keep it as a monthly ear treatment preventative for my cocker puppy. There are two types of this medicine; one with hydrocortizone and one without. This is an enzymatic otic solution and is 1.25 oz. bottle. Probably need more than one to do the job effectively. The ZYMOX helps to dry the infection away and the dog shakes their head, the flaky debris falls away. That's why you do not need to do anything more with this product. I found ZYMOX on websites reasonably priced for less than $20.00 and sometimes on sale. Good luck.
A vet check is worthwhile first though because of the severity of your dog's ears. IF they have been let go for too long and the ear odor is obnoxious, his inner ear problems may be far worse than what ZYMOX can do to heal them without antibiotics. Better tp be safe than sorry and your pet will feel better faster.
(01/22/2008)

By Lorelei
Dog With an Ear Infection
It's much more important to take your dog to the veterinarian than the groomer. He is suffering with that ear infection.
So many dog owners don't realize they need to clean their dogs ears, and I was one of them until my vet explained the situation to me. Some dogs even smell bad because of dirty ears.
My vet said to clean the ears with a mixture of half white vinegar and half water approximately once a month. If the ears are really bad, mix one third rubbing alcohol, one third white vinegar, and one third water. Just use something to gently squirt the mixture (I warm it a little) into the ear and hold the ear shut and jiggle the mixture around inside the ear for a couple of seconds. When you let go, the dog will shake it out. After the dog shakes it out, use a cotton ball to try to dry the rest out. If you keep your dogs ears clean, you can possibly avoid ear infections and vet bills. BUT, if you dog has an ear infection, there is no home remedy you can use. Only the vet can help him with antibiotics. (01/22/2008)
By Stngray
Dog With an Ear Infection
There are some types of ear infections that only a vet can treat, such as a yeast infection. Other ear infections can be treated with the following mixture. I would use this for 3 straight days, then go to every 3rd day, then to once weekly. Hold your dogs ear (at the tip of it) straight up (this opens up the ear canal). After applying mixture in the ear, bend the ear down and rub the ear, so the dog won't shake the medication out. Then gently clean the ear with a Q-tip.Do NOT go deep in your dogs ear with this Q-tip.Continue cleaning until all purple color is gone. Here is the mixture:
1-bottle rubbing alcohol
4-teaspoons boric acid
50 drops of Gingia violet (this will be purple)
Hope this helps. I use it on my Yorkies. (01/22/2008)

By Kay
Dog With an Ear Infection
For my cats (3), I always had more love than money! What I did, at the age for them to be fixed and when it was time for shots and such, was contact my local humane society (wherever I happened to live), to see where low cost animal care could be found. The fellas, I got them fixed at a clinic for 8 bucks each, the little girl, fixed for 25 bucks; the local ASPCA had a program where they used an income sliding scale to determine the cost. So make some calls, do a little research, and get your furbaby some help! (01/22/2008)

By purrplekat
Dog With an Ear Infection
I don't know but see if you can contact your local Humane Society and ask them if maybe they can help you pay the Vet. If not maybe they can tell you someone that can help, be worth a try.
Lois (01/22/2008)

By Lois
Dog With an Ear Infection
You can buy tetracycline (antibiotic) in powder form in the fish department at Petco very cheaply. My son takes it when he has a bacterial infection. Yes, I know, that sounds bad, but it works. You could try washing the dogs' ear out with it often and give it orally.I know sometimes oral antibiotics don't work for an ear, you need drops. They used to have capsule tetracycline there, I haven't looked for awhile, that is even better. It is the same stuff they give humans but can only be sold for fish! You can buy it without a prescription on line too. Sometimes in capsule form it is called Fish Mox. In that case, it is amoxycillin. (01/22/2008)

By rae
Dog With an Ear Infection
Your little dog needs professional vet care. It probably needs antibiotics, plus some other medication. Animals hurt just like people do. When infection hits, it has to be controlled properly and that's with a vet's care! (01/22/2008)

By carla
Dog With an Ear Infection
I totally agree with those who have said that you should get your little dog to a vet without delay, he must be thoroughly miserable and his ear will be swollen and inflamed inside and very painful. Trying out these remedies that have been suggested will make him suffer more until by chance you find one that will possibly help. These ear infections advance very rapidly and need attention at the first sign.
Get him to a vet, and don't delay. (01/28/2008)

By Norma
Dog With an Ear Infection
Well my dog has the worst. I've done everything from ear drops, you name it.
I got poison Ivy when I was out camping and at the store I got calagel for poison ivy. I read the bottle and it dried it out, the rash. My dog was in great pain so after I treated myself I gave it a shot. I wiped it in his ears 2 day later all the swelling went down. I found the gel keeps the ears dry as I am still trying to solve this as the vets have not been able to do. But it keeps it under control so he does not tear his ears apart so its not a fix
but it keeps the ears dry so the infection does not get worse and its enough to keep him from scratching his ears of and relieves the pain.
(02/28/2008)

By eddie
Dog With an Ear Infection
Change the food to something that does not have by-products or possibly grains. Innova or Fromm has a grain-free no by-products food. You can order on-line or find a holistic store. Keeps ears dry & clean. (03/14/2008)

By
Dog With an Ear Infection
Change the food immediately to a grain-free diet. You can order on-line look for Fromm or Innova products. (03/14/2008)

By Kris
Dog With an Ear Infection
Please find out if the ear infection is bacterial or a yeast infection. The yeast infection in the ear is not pretty and needs immediate attention...plus, you can usually smell an odor coming from the ear. I have never had experience with a bacterial infection, but, it should be checked out by a professional.
I have one yorkie who is healthy and one who has had a few yeast infections...it can be expensive. My groomer is going to put me in contact with a few customers who have dogs with chronic yeast infections, so I can see what they've done. I've already changed the food. It didn't work for my dog. So, I'm going to explore further. In the meantime, I'm giving my dog eardrops prescribed by the vet.
Kristen (03/28/2008)

By Kristen