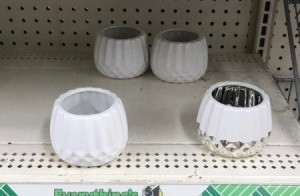 As you all may know, I love plants, especially succulents. They're actually my go to gift to give to co-workers, family, friends, neighbors, teachers, etc.
I wanted to share another option where I find pots or in this case these are actually ceramic candle holders from Dollar Tree for just $1 each. It's the perfect size to fit a couple succulents in.
I purchased the last four. I will be back when they restock to buy a couple more to save.
There are other awesome finds at Dollar Tree. I would highly recommend checking out their garden, glass, and floral section for inspiration.
Other succulent planter options: https://www.thriftyfun.com/Succulent-Planters.html
- Mason jars
- tin baskets