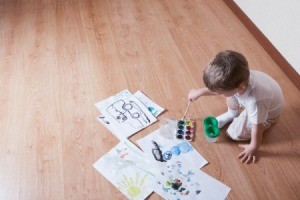 I have had my cleaning business for 14 years working with many different floor types. Floor surface residue build up is a combination of previously used products, yes, but there are many other culprits.
The following is a short list:
outside dirt, foot oil, lotions, baby powders, perfumes, room deodorizers, make-up, spray deodorants, hair spray, animal paws, foods, dust, cooking oils, fireplace/gas fire/gas heat/woodstove, plus many more. These things will eventually become part of the "floor surface residue."

The safest cleaning method (besides hand cleaning and drying by the sq. ft.) is to mix a drop of Dawn dish detergent with warm water, spray onto a microfiber mop for hardwood (keeping it almost dry) and hand cloth spot clean and dry immediately. Laminate wood floor can be a little more damp, and even more so for linoleum and tile/marble, and cement.
The #1 key is to sweep/vacuum "all" the time. If you are looking for, as close to, the brand new, just installed look, after a thorough sweep/vacuum and mopping, perhaps, with a second warm water only mopping with a clean microfiber, get down on your hands and knees with a couple of clean microfiber cloths and rubbing alcohol and clean up dull surface build up (not recommended every time).

A little reminder: life is short, it's just a floor.