Easy Homemade Chicken Stock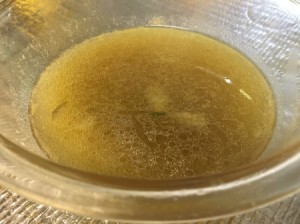 I never throw out the scraps and bones from my roast chickens. I always turn them into a delicious, hearty chicken stock. This tastes so much better than canned or boxed broth, and also ends up being way cheaper!

Ingredients:
1 chicken carcass with some meat left on the bones
cold water
1 onion, chopped
2 cloves of garlic, sliced
2 large carrots, peeled and sliced
2 ribs celery, sliced
1/2 a bunch of parsley, chopped
Salt and black pepper to taste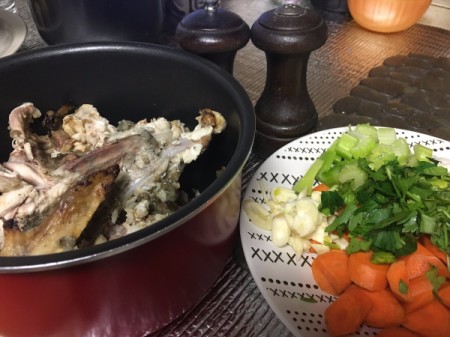 Steps:
Break up the chicken carcass into smaller portions. In a large pot over medium-high heat, place the chicken parts, onion, garlic, carrots, celery, parsley salt, pepper. Add enough water to cover the chicken.
Bring the water to a boil and then reduce heat to a slow simmer. Do not cover the pot. Let simmer for 60 to 90 minutes. The longer it goes, the richer the flavour.
Remove from heat and carefully strain the stock through a mesh sieve. The chicken stock can be refrigerated up to 3 days. If you won't be using it in 3 days, put it in the freezer until ready to use.
Add your voice! Click below to comment. ThriftyFun is powered by your wisdom!
May 19, 2017
0

found this helpful
I do this too and it's so.o.o.o good. About once a month I make what I call "mystery soup", using the broth (either just made or from frozen) and add all the month's leftover raw or cooked veggies from fridge clean-out. Once a week I clean out the fridge and toss the leftovers that we didn't get around to eating and the veggies that are past their prime into a large Ziploc bag and freeze it. I'll even throw in leftover pasta, rice and bean dishes and if it's a bit of each, all the better. it's amazing how full the "mystery bag" gets during the month, full of good food that I'm loathe to throw out and that will make a wonderful new meal that's nutritious and costs nothing except a bit of time. No two "mystery soups" are the same and that makes it fun to prepare and to enjoy.
June 14, 2017
0

found this helpful
I love that! I haven't tried saving the rices and pastas to my mystery bag but now I will!
May 20, 2017
1

found this helpful
Hello After it cools I then put it in the refrigerator over night and let the grease jell. The next morning I take and pull all of the grease off of it and thro the grease away. I keep what I am going to use out in the frig and freeze the rest.
May 20, 2017
0

found this helpful
Love it. I use the grease to cook. Call me greedy! :)
May 20, 2017
0

found this helpful
I do the same. I also do this after Thanksgiving with the turkey carcass. My mother taught me well. I do throw out the fat that accumulates on top after refrigeration, however. In Eastern European Jewish cooking, this fat is saved and called rendered chicken fat. One dish it is used in is chopped liver. You fry the liver and onions in it. You can buy the fat in little plastic tubs in stores that cater to this population.
Add your voice! Click below to comment. ThriftyFun is powered by your wisdom!
Published by ThriftyFun.
© 1997-2021 by Cumuli, Inc. All Rights Reserved.
https://www.thriftyfun.com/Easy-Homemade-Chicken-Stock.html