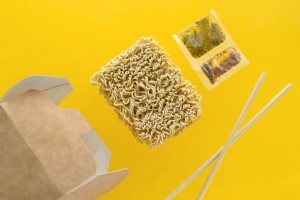 I haven't bought a stewing hen since the middle of the last century. It goes without saying, I don't have a reserve of chicken stock for making gravy. I don't even have a stock pot. I do have a window, though...and I make do. (that's Southern talk for improvising).
No pictures here. If you can boil water without scorching it, you have grasped the basics of the kitchen and should be able to fake your way through this fake gravy.
I once thought about buying a can of chicken stock from the grocer. I would use it to try my hand at chicken gravy when all I wanted was some gravy to go over hot biscuits, not chicken itself.
When I saw the price of a can of this amber elixir (almost two dollars), I says to myself, I says "Doug, put it back on the shelf. You must not support corporate greed". Hell, for the price of two cans, I could have gotten a young fryer.
I tend to buy Ramen or Maruchan noodles when on sale, thinking I will store them away for emergencies. Then, when all my cupboards are bare, I can say "Aha, I've got noodles stored away, somewhere"! I rarely eat the noodles as suggested, though. I eat them dry, pretty much as one would when having crackers and a glass of milk for a light bedtime snack.
Doing this, I soon have an accumulation of the little flavoring packets that come with the noodles, and not much of a way to make use of them. Making cups of hot bullion to sip on a bitter winter's day loses its savor quickly.
I like biscuits and gravy and have a belly as testimony to that fact. My pretense is that I will make biscuits and gravy, when the gravy is just an excuse sit down and eat a whole pan of hot bread. Pear preserves would have stood in the place of gravy quite nicely.
But what with variety being the spice, I do make gravy occasionally to smother a pan of cat heads. Then I indulge (sin against my body) and later, go sleep it off, much as one would a nice bottle of vin rosé.
For this mock gravy you will need a cup of cold water to which you have added a pinch of salt (no more, as the flavoring packette is mostly salt), a dash of black pepper, 1/4 to 1/2 teaspoon onion powder, a dash of rubbed sage and about half the contents of the flavoring packet. One tablespoon oil (I use coconut), and a heaping tablespoon all purpose flour. If you like this quick and easy gravy, you can adjust the ingredients to taste. You will also need a tablespoon of coffee creamer.
In a cold skillet, place the flour and oil. I purposely use very little oil. I detest gravy with grease floating on top. Turn heat to medium and begin stirring the mixture constantly. If the mix is too pasty/lumpy and sticks to the spatula, add a bit more oil, just enough to make the mix delump and smooth out completely.
Continue stirring the mix til you achieve your desired degree of light brown toasting, about 3-4 minutes. When the mix has reached your desired color, immediately pour the water and its added ingredients into the pan, stirring while pouring. Add the tablespoon of coffee creamer to the liquid and turn heat to high. (The creamer will make the gravy richer and smoother and is a necessary ingredient. Do not, though, add more than recommended. It contains sugar or corn syrup solids and nobody wants sweet gravy.
While on high heat, stir constantly til the gravy comes to a full rolling boil and thickens. No further cooking is necessary. You are ready to serve your lumpless and quite tasty gravy.
Why not add the coffee creamer to the cup of water instead of later to the pan? The cold water will cause the creamer to lump with most of it sticking to the insides of the cup.
You get what you pay for. This gravy wont surpass your grandmother's Sunday dinner chicken gravy. But considering how cheaply, easily and quickly it can be made, its quite good. Yes, I would serve it to guests.