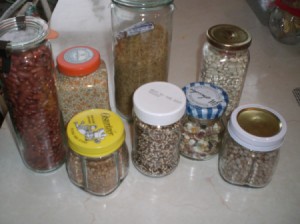 Yes, Virginia, it is possible to eat healthy AND save money. If you are looking for a good New Year's resolution next month, here's food for thought. Use more beans, legumes, grains and seeds in your diet!
They are loaded with important antioxidant ingredients for your health, satisfy your hunger, reduce your eating of expensive meat and are one of the least expensive protein sources we have available to us! Plus they offer the added benefit of fiber, which is sorely missing in our diets and may be the cause of many illnesses!
Start out slow if you need to. Buy a can of any one type of bean and divide it up into an ice cube tray, slowly adding it to your regular meals; salads, stews, soups, even serve them mashed up and added to ground meat, mashed potatoes, etc.
Gradually add more and eventually try making recipes from dried bean packets (really cheap!) in crockpots, etc. You can even make sandwich spreads with mashed beans and a little olive oil. Hummus is really just chick peas, so they can even replace unhealthy dips too!
I promise you can save money at the grocers AND the doctors office with a diet that includes more beans, legumes, grains and seeds. My newest favorite is quinoa, which is a multicolored bunch of seeds/grain that has great health benefits! When cooked, some of the seeds even sprout!
Healthy Holidays everyone!