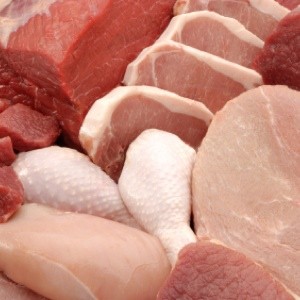 Many people don't realize it, but one of the best ways to reduce your personal impact on the environment is to eat less meat. Although all forms of food production use resources like land, fossil fuels, and water, the production of livestock for meat uses the most. Here are some easy ways to reduce the amount of meat in your diet, eat a healthier diet, and reduce your impact on the environment all at the same time.
The Environmental Impacts of Eating Meat
One big reason meat production is so resource intensive is because of feeding inefficiencies. Producing meat from an animal fed grain requires much more food and water than just producing the grain itself. In other words, producing one pound of meat requires much more water than producing 1 pound of grain-according to some studies, up to 10 times more. The environmental impacts associated with meat production include:
Global climate change
Air and water pollution
Deforestation
Water scarcity
Species extinction
Social injustice
Spread of disease
But What About Protein?
Reducing or eliminating meat from your diet doesn't mean you'll be eliminating your only source of protein. Eating a variety of whole grains, legumes, nuts, fruits, and vegetables will supply most people with an adequate supply. And unless you're a professional athlete, you probably don't need as much protein as you think. The USDA average recommended daily allowance for protein is 63 grams for an adult male and 50 grams for an adult female. The typical American consumes somewhere around 103 grams daily, about 70 of those grams from meat.
Tips for Consuming Less Meat
Adapt your favorite recipes. Reducing the amount of meat you eat doesn't mean you have to stop preparing your favorite dishes. Try adapting them by leaving out the meat or replacing it with vegetables. Use beans or rice in place of meat in chili and stew, or substitute spinach or zucchini for the sausage in your lasagna.
Replace meat with meat alternatives. Most major grocery store chains now carry a wide variety of meat alternatives that mimic the taste of their meat counterparts surprisingly well. If your store has an organic section look there first. Otherwise check the freezer section and you'll find faux BBQ ribs, chicken tenders, veggie burgers, veggie hot dogs, veggie sausage and bacon and even veggie steak strips. There are also a wide variety of meat substitutes on the market-plain or flavored tofu, tempeh, textured vegetable protein (TVP), and faux sandwich meat.
Try eating meat only on the weekends or save it for when you eat out. Meat can be the most expensive item on your grocery list, so cutting back this way not only reduces your consumption, but you'll save substantially on your grocery bill. A growing number of people are also taking the "Meatless Monday" pledge.
Stock up on spices. It can be difficult to make changes in your diet if the new foods you try don't taste interesting. Buy some new cookbooks that focus on vegetarian cuisine and explore new flavors using a variety of fresh herbs and spices.
Eliminate meat-only dishes like steaks, burgers, and roasts, and switch to dishes like lasagna, pizza, casseroles, and soup where meat is used only as a secondary ingredient.
Get the whole family involved. Sign up for a vegetarian cooking class, or make each family member responsible for finding a new meat-less recipe for everyone to try. Ask everyone to vote and establish some new favorite meals.
Read More Comments
I have 2 men in my home, and they both love meat. Whether it's chicken, beef, pork, or lamb they love it! But meat can be expensive when you serve it daily. So I have decided that to save money on meats, I would try different recipes with less meat then called for to see if the guys would notice.
Now, if you are making a roast or fried chicken, obviously you cannot use less or they will notice. But if you are making something like Hamburger Helper or stir fry, you can use up to half the meat called for and they don't know! I add extra veggies or noodles and they never notice. This way instead of 1 dinner for a pound of chicken or ground meat, I get 2.
By Shannon M. from Lakewood, OH