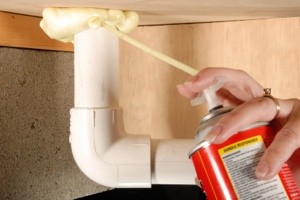 Many have heard that the typical homeowner throws money out the home's windows and doors. This saying refers to improper sealing in the home, allowing expensive heat and air conditioning to escape the house. Hundreds of dollars in heating and ventilation can be saved with some insulation. Look in these small places to save big money. They can all be sealed with expanding foam sealers or small bits of home insulation.
Check the Walls
If your house has siding, check the areas around the siding for proper sealing. Homes are insulated behind their siding, but if air can get back there, the insulation can't do its job. Check under the bottom rim of the siding at the foundation of the home and be sure that it's sealed tightly. Likewise, look at holes in the siding around exhaust fans and other areas where air might escape, including the area around the dryer vent and any outside faucets and outlets.
Look Below
Few people care about drafts in an unfinished basement, but they should. Those drafts cause an overall loss of household atmosphere, and sealing them will keep a more efficiently insulated house. Look at the area where the basement walls meet the ceiling (the underside of your floor) and seal any gaps. Also, look where pipes enter the home, and seal the area around them as well as HVAC ductwork and television cable wires. Do a final check around basement windows, sealing them and repairing cracked glass.
Looking Up
Now go to the extreme other end of the house-the attic. People know to fill attics with insulation, but if the attic is open for storage there are smaller leaks that are left exposed. Replace any attic insulation that looks "old." Discolored and dirty looking insulation needs to be replaced with more efficient insulation.
Heat rises and hot summer sun beats on the roof, so attic sealing is truly key to proper home insulation. Look for electrical wires coming into the home and television reception mounts that need to be sealed with expanding foam. Most homes will have a pipe running from the bathroom plumbing through the attic and out the roof. Seal around this pipe at the roof and the floor of the attic. Don't forget to seal the doorway to the attic with sealant or weatherstripping to prevent drafts from entering the living area below.
Onto Living
Drafts in the living area are usually attended to without a problem. Items like draft blockers for the base of doors and weatherstripping around door jams and windows are common place. Yet, there are many more places where expensive heat can be lost in the living area of the home.
Just like the basement and attic, check the living areas for cracks between the floor and the wall. You won't see them on finished areas, but check under the baseboards where moulding isn't sealing the joint. Ever feel a stream of cold air coming from your outlets? Foam insulation pieces can be added to electrical outlets behind the wall plates.
Read More Comments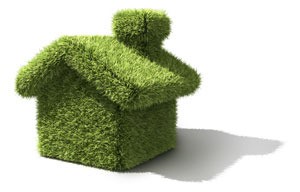 Part of home maintenance is maintaining the exterior. As projects come up (and they always do), why not use the opportunity to go green? Having an eco-friendly exterior does not mean you need $10,000 worth of solar panels either. Over time, much smaller changes can add up to big savings-for you and for the environment.
1. Weatherize old widows: If your windows are in good overall shape, replacing them isn't necessary. Studies have shown that older windows can perform just as well as their vinyl replacements as long as they are in good repair and properly sealed to prevent excessive air exchange. Caulk the exterior trim of your windows and repair cracked glazing or damaged putty around the glass, and while you're at it, check for air leaks around skylights. Then pat yourself of the back for reducing the demand for vinyl, thereby reducing the non-biodegradable waste and toxic byproducts that result from its production.
2. Make smart paint choices: Recently, a small number of low VOC, eco-friendly exterior paints have come onto the market. Unlike their high-performing interior counterparts, the jury is still out (at least among professional painters) on whether or not the exterior versions can withstand long-term exposure to the elements. Eco-friendly exterior paints also come at a higher cost ($50-$60 dollars a gallon), so make sure to do your research before buying.
When using standard exterior paint, you usually get what you pay for. Always buy the highest quality paint you can afford. Choose light colors for your home's exterior. They reflect heat better than darker colors and will help save on energy costs.
3. Insulate your crawl space: Most people insulate their attics and basements, but they tend to overlook the heat lost by their crawl space. There are many eco-friendly insulation options available, but the type of insulation you use will depend on several factors: climate and recommended R-value, the direction your house faces, drainage, ventilation, and local building codes. Check with your local building safety office and local home center for more information.
4. Seal leaks and stop drafts: Keep exterior doors airtight with weather-stripping. Install chimney rain covers, and keep fireplace dampers closed when not in use. Seal dryer vent leaks by using covers that open only when your dryer is in use. Seal and insulate around water pipes, cable connections, and anywhere the exterior of your home has been penetrated with pipes or wiring.
5. Roof responsibly: If your budget allows, roofing materials made of metal, ceramic tile, or slate are the greenest choices. Traditional asphalt shingles, although not the best choice for the environment (lack of durability, difficult to recycle), are still the most affordable. Not all asphalt is created equal, though. Organic-based asphalt shingles (made from recycled natural materials like paper, felt, and wood fibers) are a greener choice then their fiberglass-based counterparts. Higher asphalt content also gives them greater weight, which makes them more durable and resistant to damage. When replacing roofing with asphalt, install light-colored shingles to reflect heat.
6. Landscape strategically: Trees and shrubs cannot only increase your property value, but when strategically planted they also lower the demands on your heating and cooling systems. Plant a row of evergreen trees on the north and east sides of your house to shelter you from winter winds. Plant deciduous trees on the south side of your house to shield your home from the summer sun. In the winter, their dropped leaves will allow the sun to penetrate. Low-growing shrubs in front of an air conditioning unit cast a cool shadow.
7. Open your windows: In the spring and summer, turn off your air conditioner. Instead, create cross ventilation using open windows and cool air down with dehumidifiers. In the case of many older homes, the original layout was often designed with cross ventilation in mind.
8. Select the greenest products: When greening the exterior of your home, select the greenest products available. How do you know if a product is green? The answer depends on your location, your climate, your project, and what materials are available locally. In general, if a product saves water or energy; replaces toxics chemicals with healthier alternatives; conserves resources; or reduces, reuses or recycles waste; it's probably green.
Finally, invest in an energy audit. Call your local utility company (or visit http://hes.lbl.gov) to schedule a home energy audit. They can pinpoint problem areas and make recommendations for improving your home's efficiency.
Read More Comments