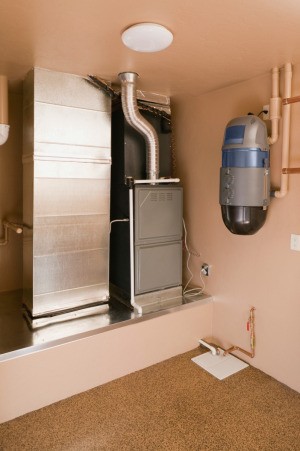 My partner and I are currently completing a half built house. As we both have degrees in Environmental Studies, we were very keen to use the latest technologies, for instance; ground source heat and biomass to heat our home. We have fitted wet underfloor pipes in eager anticipation of using these to keep warm in a green way.
To our amazement, after a great deal of research and soul searching, we have discovered that the most efficient way, in terms of both cost and energy use, is to have an ultra efficient electric boiler. This can take advantage of the off peak half price electricity that is available between 22.00 and 6.00.
This is used to heat water which is stored in an ultra insulated storage tank which can be released during the day to supply our hot water needs and heat the house as well.
The cost of the boiler is about 25% of the other technologies and we can spend the difference on putting 30 cms of insulation on the outside walls of the house which will reduce our heating needs still further.
So what looks like the greenest solution is not always the best one. Take your time deciding which way to go, you will live with it for a long time.
By ayesha christmas from Slovenia EU
Comments

April 20, 2010
0

found this helpful
This is extremely timely. Everyone is so focused on going green, they forget that might not fit their lifestyle. Why invest in a solution which simply will not work for you?

Coreen Hart
Bronze Feedback Medal for All Time! 153 Feedbacks
April 20, 2010
0

found this helpful
Your research was apparently very thorough. We all need to be more aware of what we are doing to dirty up our planet, don't we? And to be thrifty. The thrifty lifestyle is the cleanest that I know of. Nevertheless, I am becoming increasingly disturbed by the damage that plastic waste is doing to our oceans. If our oceans die - are smothered in our trash - our planet will die. It's not just from lack of fish that we will suffer. Our air quality, sunlight, weather patterns and many other things will gradually fail until earth can no longer sustain life. At our current rate, I would venture to say we have two generations or less to get our act together.
My question is, what can we do about the plastic that is smothering the sea? I for one will stop buying plastic bottles of cold drinks. But wouldn't it be neat if we could get recycling programs going in every community? We're increasingly recycling grocery bags. There is a manufacturer in Rupert that is turning milk bottles into hutches for baby calves. But what more can the average person do? I would appreciate your comments on this if you have anything to offer. Thanks!