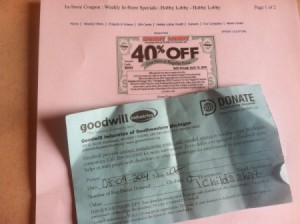 There seem to be quite a few crafty ladies on this site. Many of you also enjoy thrift shopping. I wanted to share a couple tips that I use to save even more at Goodwill and craft stores.
Goodwill: the last Saturday of every month is half price day. Fabulous! But, if you cannot make it on that day, there is another way to save. For every donation you make, no matter how big or small, they will give you a 20% off coupon off your entire order. I NEVER walk into that store without donating at least a shirt, anything, so I can get my extra 20% off. It really saves a bundle!
Hobby Lobby and Michael's craft stores always have a recent 40% off one item coupon that you can print on-line. Some of these you can even access on a smart phone and use them without printing a thing. This really helps me out, especially when I want to purchase a pricey item. Say I want to make a scarf with fancy yarn, but that ball costs a whopping $7! I bring my coupon and pay only $4.20. Or, if I need multiple items at a time, I will print a coupon for each member of my family and we will each go through checkout separately.

For instance, hubby recently repainted our daughter's dresser. She wants new fancy knobs for the drawers, and Hobby Lobby sells fabulous ones for about $5 each. I'm not going to pay that though! We are each going in with our coupon and getting each knob for only $3! Takes a tiny bit of extra planning, but if you love thrifting and crafting as much as I do, it really pays.