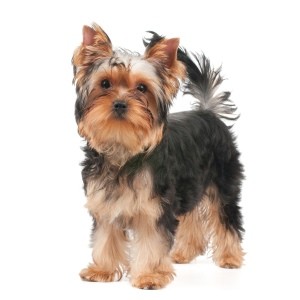 The Yorkshire Terrier, nicknamed Yorkie, is a small breed of dog first developed in 19th century England to catch mice and rats in textile mills. Today, this popular companion dog is known for its luxurious blue and tan coat, and its bold, inquisitive personality.
Quick Facts about Yorkshire Terriers
Area of Origin: Yorkshire and Lancashire counties, England

Original function: Working breed; small vermin hunting

General appearance: The head is small and rather flat on top, the skull not too prominent or round. The muzzle is of moderate length, with a black nose. The eyes are medium in size, dark in color, and sparkle with a sharp, intelligent expression. The body is compact, with a short back. Traditionally the tail is docked to a medium length, although an increasing number of owners not intending to show their Yorkies are choosing to forego this practice.

Height: 6 to 7 inches

Weight: Not to exceed 7 pounds (3.2 kg).

Coat: Long and silky; blue and tan in color. Yorkie puppies are born black and tan and gradually develop a blue and tan coloration as they mature.

Average lifespan: 12 to 15 years

American Kennel Club group: Toy Group
A Breed with Modest Roots
The Yorkshire Terrier was originally bred to help the working class, and therefore looked down upon by the wealthy. It didn't take long, however, for the beauty and personality of these little dogs to win over the hearts of the upper class. By the late 1800s there were dogs representing the breed in the United States, but they varied greatly in size and shape. No one seemed to know just how big a Yorkie should be. By the turn of the century fanciers in both the U.S. and England came to a consensus that breeding smaller Yorkies was preferable, and gradually the dog was miniaturized. The Yorkshire Terrier was first recognized by the AKC in 1885.

Intelligent, Independent Thinkers
Yorkshire Terriers have busy, adventurous personalities. Because they were originally bred to think on their own, they are intelligent, independent thinkers, who possess a bit of a stubborn streak. Known for their over-protectiveness, they make good watch-dogs and will quickly sound the alarm whenever a stranger approaches. Though small in stature, Yorkies are not submissive lap dogs. Among strange dogs and other small animals they may become aggressive. These little dogs enjoy being doted on and make wonderful companions for seniors and families with older children.

Exercise for the Mind and Body
Yorkies are known for having active, inquisitive personalities and require plenty of mental stimulation. Because Yorkshire Terriers were originally bred to assist humans they are intelligent and eager to learn by nature. Yorkies are not difficult to train, but like all terriers, they will quicklytake over the household without an owner who understands how to be a firm leader. As with many small dogs, this breed can be somewhat difficult to house train. A pack leader that provides plenty of mental stimulation and exercise through walks, training and games should have no problem cultivating a quiet, happy companion. The Yorkie is a good dog for apartment life. It is very active indoors and will do okay without a yard. It is not a cold hardy breed and prefers warmer climates.

Daily Grooming
The coats of Yorkies intended for show are extremely high maintenance. Traditionally, show coats are left long and the hair on the head is gathered in a topknot (band or ribbon) in order to give the dog maximum visibility. For the average owner, the level of care needed to maintain a show coat is much too time consuming. Most prefer to keep the fur trimmed short for easier care. Keep in mind though, even a clipped coat will need daily to weekly combing to keep it clean and mat-free. Compared to other breeds, the Yorkie sheds little to no hair.

Health Considerations
As with any dog breed, Yorkshire Terriers are susceptible to certain health issues, including bronchitis, eye infections, and knee and spinal problems. The breed's small size makes them susceptible to fractures and other injuries and usually leaves them with a lower tolerance to anesthesia. Giving them foods outside their regular diet may upset their delicate digestive tract, resulting in bouts of vomiting and diarrhea. Like other small breeds, Yorkies are prone to severe dental disease. Owners should be prepared for routine professional cleanings, as well as brushing the dog'steeth at home, and providing them with treats and toys that help prevent tooth decay.