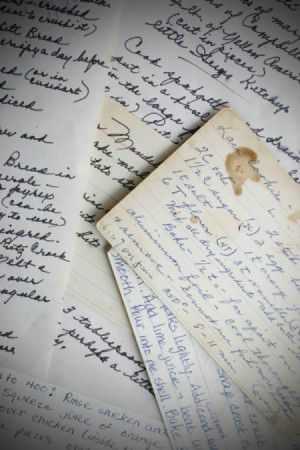 I like to gather favorite family recipes and type them up in Word on my computer. I then print them off and place in clear plastic page protector sheets and put them into a 3 ring binder. I have them organized by category, such as breads, desserts, meats, etc. Sometimes I even add a picture of the dish or, if a complicated one, pictures of the steps used to create the dish.
This makes a great gift for wedding showers or students who are leaving home to start their own home away at college, or to a family member who has lost their home in a fire or flood.
Some recipes are written in the creator's own handwriting, then photo copied, such as some I have from my grandmother written back in the late 20s. A few of the pages also feature a photo of the cook who shared the recipe.
This has always proven to be a favorite hit. It is not only a recipe or cook book, but a bit of family history as well. Since it is in a binder format, the bride or new owner of the book can add more to it as the years go by.
Editor's Note: Another way to accomplish this is to submit your recipes here on ThriftyFun. The Print option automatically formats recipes and you can print them with or without photos.