Norwall Border ZW74507
Norwall Border. I'm looking for Norwall border, similar to ZW74507 but it seems like an older addition where the animals spots are red and not brown and the blue background is darker. Please, if anyone can help me... Thanks.
Efrat efrat.toury (at) comverse.com (09/21/2007)

By moderator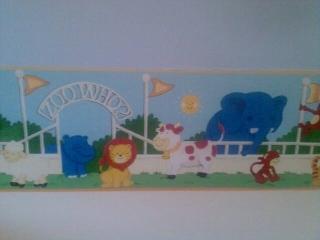 Home Trends Wallpaper Border
Looking for 2 rolls of wallpaper border; by Home Trends; which is no longer available. This came in 5 yards per spool,5 inches in height with burgandy border. Bears are on this with houses, baskets, hearts on top by the burgandy border (friends gather here). I am in Tunkhannock Pa as I'm requesting trying to finish a room for my sister who has uterine stage IV cancer . This would mean a lot to her to have this completed before her end. I believe she bought this at a wal-mart or target. I have looked everywhere and have run out of places to look. Thanks for any help.

Cherie from Arlington, Texas

2cweavers (at) sbcglobal.net (09/21/2007)

By moderator
Seabrook Sunny Tuscany #ST50307.
I am searching for the discontinued wallpaper Seabrook Sunny Tuscany #ST50307.
Margaret from McKinney, TX

margaret_reynolds AT Yahoo.com (09/21/2007)

By moderator