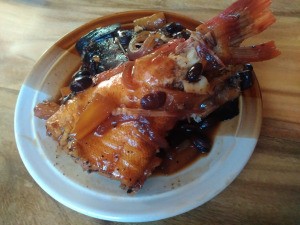 "Paksiw" is Filipino's other traditional way of cooking other than "adobo". We usually do this with leftover roast pigs, but during the regular days (no occasion) we make paksiw with fish.
So basically, fish paksiw is boiled in vinegar, chilies, and spices. Actually considered by us Filipinos one on the list of easiest and fastest cooking process. Just put all the ingredients together, steam and wait until fish is cooked then you're done. Some of us, here, when there's pineapple in a recipe we call it "Hawaiian Style". The Hawaiian style food that is most commonly served is the pizza with lots of pineapple chunks topped in it. So most of us here think that a dish with pineapples is Hawaiian. I feel a bit funny for this, but it's just like how some of us believe that a special ramen is the one topped with egg, the regular is not and a halo-halo special is the one with dulce de leche on top while the regular one doesn't have this sweet treat in it. That's just how we think in here as a part of Filipino culture, that's what we are.
So, now, I call this dish "Hawaiian Fish Paksiw" getting the idea from such beliefs. The pineapple really adds a good balance of sweet and sour flavors.