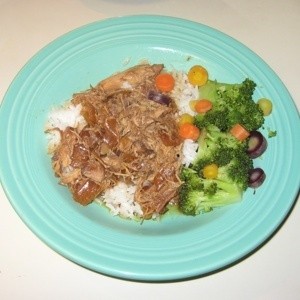 This is a crockpot version of the classic Filipino dish. Recipe will feed 6-8 or leave lots of leftovers for a family of 4.
Ingredients:
3-4 lb. chicken thighs (boneless)
3/4 cup rice vinegar
3/4 cup soy sauce
1 head garlic, peeled and minced (approximately 8-10 cloves)
1 large sweet onion (Walla Walla)
3-4 peppercorns
2 bay leaves
Feel free to substitute ingredients to for your personal taste. Chicken breasts would be slightly healthier but may result in a drier finished product. Cider vinegar, low sodium soy sauce or yellow onions would work too.
Directions:
Cook on low for 8 hours or until chicken falls apart. You can use a fork to shred the chicken if you desire but I found it unnecessary.
I served it over rice with steamed broccoli and carrots (yes, those are purple carrots) on the side. I may experiment with adding veggies to cook with the chicken, such as shredded cabbage, so it would be a more complete meal.
Servings:
8
Time:
15 Minutes Preparation Time
8 Hours Cooking Time
Source: A combination of several recipes found on the internet.
By Jess (TF Editor) from Hillsboro, OR
Read More Comments