Financial Tips for College Students
Solutions
Share on ThriftyFunThis page contains the following solutions. Have something to add? Please share your solution!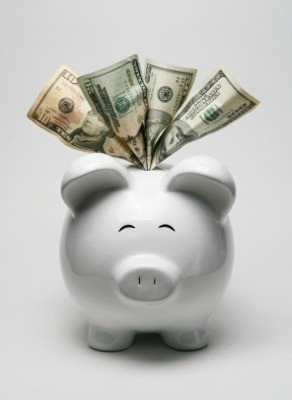 There are many things that we know we should do. We should walk or bike to work, we should eat our vegetables, and we should keep all our receipts. Yet, there are some financial moves that everyone in his/her early twenties needs to make. While it seems like there is an endless stream of years ahead of us, time moves quickly and no one wants to learn the lesson too late. Becoming that secure and satisfied middle aged adult hinges upon what you do now.
Set Up A Retirement Fund
If you haven't already set up a retirement account for yourself, then run to a financial adviser. Anyone over the age of twenty who hasn't started a retirement fund is quickly falling behind in the future of finances. Even if the job isn't the one you plan to keep, it doesn't hurt to start saving; retirement funds are transferable.
If you work for non-profit organizations you'll be required to open a 403b account. This account travels with you when you move from one job to another, so even those who don't work in the non-profit field can open a 403b for transferable ease.
Most for profit companies offer a 401k plan to their employees. The benefit of the 401k is that many employers match the employee contribution, upping the value of your retirement fund. If you transfer jobs the value of your 401k will be sent to you to deposit into your new 401k plan or into a 403b plan that would supplement your 401k retirement.
You're juggling college loans, rent, and other bills; retirement isn't your priority. However, it is crucial. If you put $100 into a retirement fund at the age of 50 and it's worth $200 when you retire, the same $100 put into a retirement fund at the age of 20 would be worth $1400 at retirement. It's not necessarily the amount of money you put into the account but the time that it accrues since it earns compound interest.
Put Money Into Savings
Now that you're paying your bills plus you have a retirement fund to worry about, the last thing you'll want to hear is that you need to put more money aside. However, not only do you need to hear it, but you need to do it as well. It's important to have a savings to help in emergencies. A good rule of thumb is to put 10% of your salary into a savings account. This means spending less and doing without things that you want. Remember, to become the thirty or forty-year-old who has a new car and takes family vacations, you must first put in your years as a twenty-year-old who lives without an iPhone or designer clothes. If you earn $400 a week, put $40 into a savings account and forget about it.
Don't Accrue Debt
There are bills you need to pay and debts that are excusable. Student loans need to be paid, and a used car loan is acceptable. A mortgage payment is a heavy weight, but it pays off in the end. However, credit card debt or new car loans are inexcusable for someone in his/her early twenties. Building debt now leads towards years of payments and a weak financial future. It's tempting, and you'll see older, established spenders using their credit cards, but you can't fall into the trap.
Charge only what you can pay off each month, and if one month's bill carries over into the next month lock the credit card away. Thinking that you'll pay it back later when you get a raise or when you pay off your student loans is trouble. Pay it now and use your future earnings in the future.
Read More Comments
Credit card companies fall over themselves to offer credit to new college students. If you have a child heading off to college, be sure to warn them about this because they can quickly amass high interest credit card debt that could haunt them, and you, for years to come.
Archives
ThriftyFun is one of the longest running frugal living communities on the Internet. These are archives of older discussions.
If you are heading off to college or have child who is, watch out for the predatory practices of credit card companies. You may be surprised by just how easy it is for new students to get credit cards. New students are bombarded with credit card offers and guess what? If they apply they likely will be accepted and given a line of credit despite having no credit history.
Credit card companies see students as a good investment since they either will get a college education and be able to cover their debt or their parents will bail them out. Advise your child or youself to avoid the Credit Card trap that awaits all new students.
Answers:
Credit Cards and New College Students
I got my son a credit card on my account when he went on a yoga teaching tour at 16 years old. It was not my main card (I only have one) but a new card that would only be used for the trip. He did in fact not use the card, but had it for emergencies. Now that he's back home and getting ready for college, I wanted to have it signed over to him but he's not 18 yet.
The point is, he had a checking account and a debit card for that account and learned how to use that on the trip, and had an emergency credit card, and learned how to manage both BEFORE he will be old enough to leave home.
It's a bit late to warn your kids when they leave home. It's best to teach them how to use the system before they ever leave. (08/02/2004)

By Allison
New College Students
*Flip flops ~~~ VITAL for communal showers.
*quarter rolls ~~~ good for laundry day
*index cards ~~~ good for that "wait" time spent in lines, waiting on professors to show up, etc. Use them for vocabulary (word on one side, definition on the other), foreign language (English on one side, translation on the other), terms (like "cottage industry" on one side...on the back, what it was and why it was important to the Renaissance etc. etc.)
When I was in college, I began to use index cards to use wait time to study, and I watched my grades jump by one letter in some classes, two in others. Because they're small, they're also portable. Plus, future students might be willing to buy them from you once finals are over. The secret is, though, it's imperative that you make them yourself because you absorb some of the material just by making the cards. (08/04/2004)

By Melissa
Advertisement
Published by ThriftyFun.
© 1997-2020 by Cumuli, Inc. All Rights Reserved.
https://www.thriftyfun.com/Financial-Tips-for-College-Students.html