I have a 90 piece set of fine Japanese china from Seizan. It is a serving for 12 and includes: platter, gravy boat, serving bowl, cream pitcher, sugar bowl, 12 tea cups, 12 saucers, 12 dinner plates,12 shallow bowls, 12 dessert/lunch plates, 12 hors d'oeuvre plates, 12 dessert/sauce bowls, all dishes are mint, never been used, perfect condition. There are no chips, scratches, cracks, or imperfections. I have tried some of the suggested places to find the value, but replacements LTD. only seems to have one cup by this manufacturer, and so far eBay and Google have turned up nothing. The design name is Danna, and is numbered 7929 can anyone identify an expected value?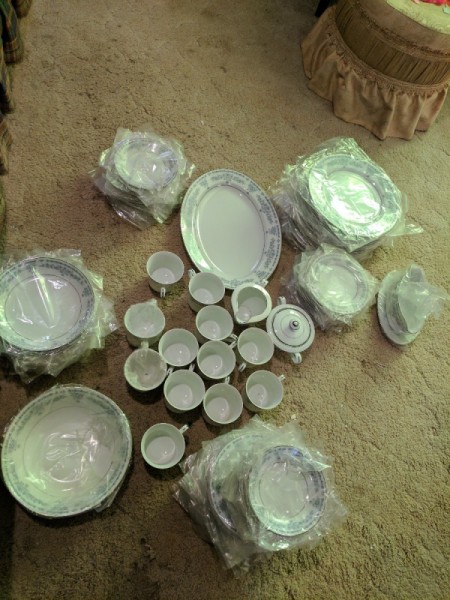 April 19, 2017
0

found this helpful
Best Answer
I researched again and although there are a couple of sets available on line, they are not the same pattern and all have less pieces, plus there is no way to tell the condition. Also, I have found no sets that were actually sold in the past 12 months.
If you live in a larger city there may be a local shop to ask but generally this type of free appraisal is worth very little unless they are experts in this field AND/OR they are not interested in buying your set.
Appraisal and asking price are generally just that - a price - maybe for insurance purposes the price is good but when it comes to actually selling something that is an entirely different thing. If your china is actually worth a large sum you may have to take it to a real auction to get the true value and then it is a risk.
Trying to sell on line is very difficult unless you are showing the set as "pick up only" and no shipping. Selling a set on line may take weeks/months/years (yes - years) before an interested buyer comes along. There is a lot of luck in selling such a specialized item - anywhere.
On line appraisals are inexpensive and generally done by experts in the certain fields as they do this in their spare time.
Hope you find what you are looking for.
April 18, 2017
0

found this helpful
Looks like a beautiful set and 90 pieces is almost unheard of but there does not seem to be very much information available. Which could of course mean the value might go either way - high or low.
Since you have already looked at the auction sites and Replacements then it seems you may have to go with an appraisal. You can find many sites on the Internet that offer appraisals but the actual cost can vary widely.
Here is one site you might want to start with: (Good Luck - beautiful set)
antiques.lovetoknow.com/Free_Antique_Appraisals_Online
June 10, 2017
0

found this helpful
Hi - I have the same set, even a few more pieces that your picture shows. I bought in Japan many years ago while stationed in Japan. Did you ever have it appraised?