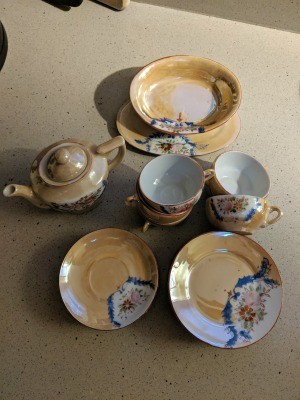 I am wondering if anyone knows what this little set could be worth, if anything? I bought my house a few years ago and the sellers left a whole shed full of stuff, so I'm slowly going through it. I did contact them and they weren't interested in going through it.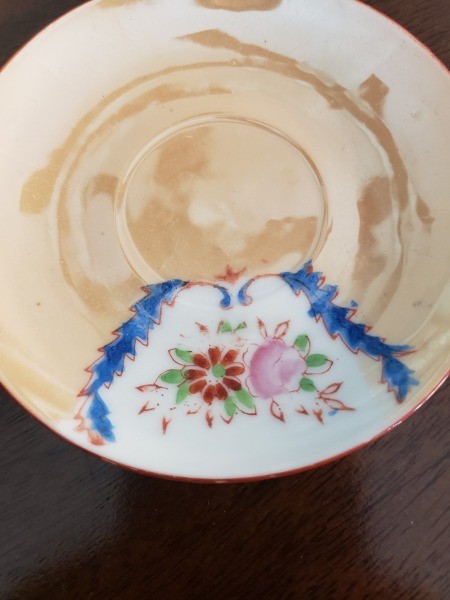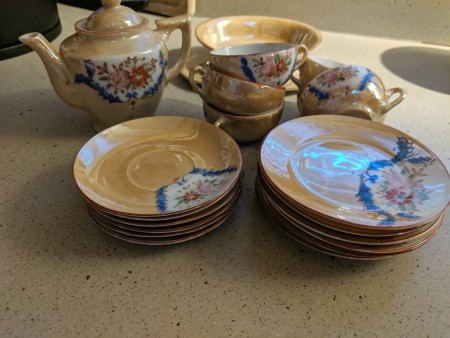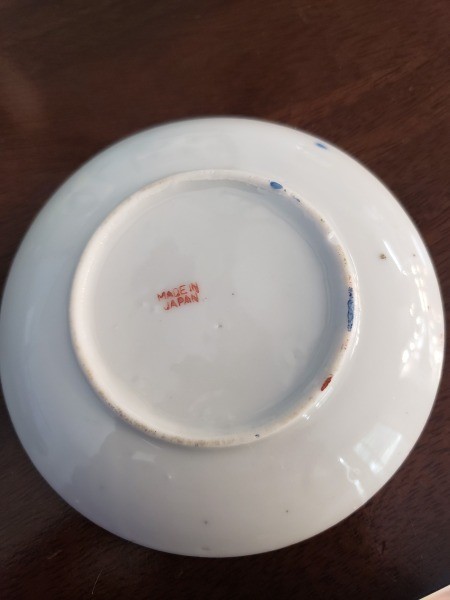 Answers

Iceskater
Silver Answer Medal for All Time! 320 Answers
June 21, 2020
0

found this helpful
Best Answer
This is lusterware! Very cool looking - young people love this stuff for decoration and to keep doo-dads in. You might get around $20-30 (but also consider mentioning that for the right price you'll break up the set).

June 21, 2020
0

found this helpful
Best Answer
You do not say how many pieces or condition but the market shows similar pieces are plentiful so most of them are going to be lower value.
Sets are usually more valuable if they have accessories such as the tea pot and sugar and creamer (I did not see a sugar?) and plates as cups and saucers are more than plentiful.
These sets were sold by the thousands (millions ) to all kinds of stores but mostly lower end stores like the 'Five & Dime' stores (Grants, Woolworth, Kress, Ben Franklin, etc) so that means seniors are downsizing and getting rid of the clutter that everyone thought would be valuable but turns out to be just the opposite.
You'll probably never see your exact pattern but that does not matter as patterns are so varied that buyers have their pick of any type of design.
You can check eBay & Etsy listings to see what sellers are asking for their sets (all sizes/pieces so no 2 listings will be the same). Asking prices are not value prices as only a sold item will tell you what someone was willing to pay.
Shipping is expensive and very hazardous as these are very fragile and will break easily.
www.ebay.com/.../i.html?_from=R40&_trksid=m570.l1313...
Here is a link to eBay's sold items so you can see what someone was willing to pay for 'sets'.
www.ebay.com/.../i.html?_from=R40&_nkw=vintage+japanese...
If you plan to sell you will need very good pictures and good description of pieces and condition.
You may be more successful if you list on other sites like Craigslist, Facebook Marketplace, letgo, offerup, etc where you can list as pick up only so you have no shipping problems.
Start your price higher (maybe $50-60) and lower it if no one shows an interest.

Pghgirl40
Bronze Feedback Medal for All Time! 196 Feedbacks
June 22, 2020
0

found this helpful
Best Answer
Since your pieces say Japan, they could be aged anywhere from 1951 ish to the day you bought the property with them on them.
Tea sets have regained a little burst of popularity in the past year or so with homeschooling moms who have teas for their children and other home schooling parents (pre Covid).
If you can take a true to color (take the photo outside) picture of one of the plates you can upload it to replacements.com (there is a camera icon in the top right) and see if they can give you a name for your pattern. I tried but the photos here are too dark to get a read on them on the site.
If you are going to sell them online, you really need to be an experienced seller and have great packing skills because these can break if you sneeze on them and shipping can result in a million pieces being delivered to the buyer.
Since you have very little invested in them except some time to figure out what they are worth, you can start them in a 7 day auction at $15.00-$25.00 and take what the market offers. Or you can start high, like $100-$150 for a buy it now, best offer and see if you get a nibble with a best offer.
Look at eBay solds to see how they list them using key words like Japan, Lusterware, and the floral (name the flower if you can).
If you are selling locally, the value will depend on your location and the supply and demand for your town.
Again, start high, take best offer. A retail consignment store is the best bet for selling (my opinion as a very experienced eBay and online seller) because you lose the risk of them getting broken in shipment. You share the profit with the store, but you have no muss and fuss related to either an online sale with shipping or an in person sale where you have to deal with flakes and no shows and if they do show, people coming to your house to look at them.
Post back how your sale goes! They are pretty!! Hopefully you have a lot of moms in your town who are doing the tea parties and it will be a quick sale!

poehere
Bronze Post Medal for All Time! 105 Posts
June 22, 2020
0

found this helpful
Best Answer
It looks like you have a 6 tea cup set but it appears one of the tea cups is broken or it is missing. A complete set can net around $30-60 for the set. They are a bit hard to sell right now and in the past few years sets like this have greatly decreased in value because people are no longer interested in decorating they homes with stuff like this or even holding on to it for a long period of time.
Answer

this Question

My great aunt brought this back in the early 1900s from overseas. I would love to find out mark information, maker, and value! The set has teapot, creamer, sugar bowl, plates, saucers, and teacups - 4 place settings.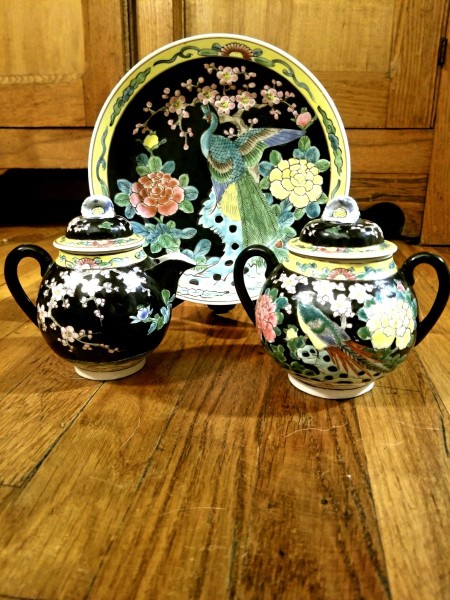 A plate, creamer and sugar bowl are pictured; the rest is packed up.
Thank you.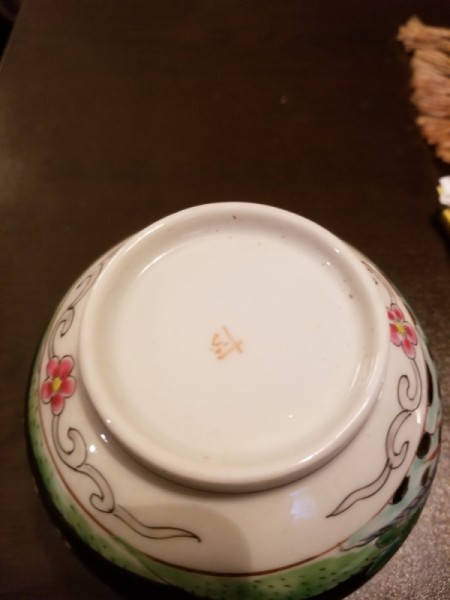 Answers

Pghgirl40
Bronze Feedback Medal for All Time! 196 Feedbacks
October 8, 2018
1

found this helpful
There are many, many, many marks for Japanese pieces like these so I recommend talking to a professional to get these appraised. They are really lovely. See if you can find someone who specializes in oriental works. This site may help you find someone:
antiques.lovetoknow.com/.../antique-japanese-tea-cups
I searched eBay and a few of the other sites I frequent to see if there was a like set and nothing came up. Looking at SOLD auctions of exact pieces is the only way to give you current market value--which means what someone is actually willing to pay for an item. Items have no value until someone is willing to pay for them. That is just a sad fact of today's economy.
When getting an appraisal always ask for insurance and retail values as the retail is usually lower than insurance.
Selling pieces like this online are very, very challenging as they are so fragile and if you don't package them carefully (and sometimes even if you do) they end up smushed and in a million pieces. I have had it happen WAY too often.
You would be best selling to an antique dealer or direct sale--like through Facebook marketplace or such a site. Either way, you will not net the full value because antique dealers take a cut (or pay out less than retail) and those on the public market sites are always after a bargain and even with an appraisal most people will ask for "your best price".
Knowing the antique retail value gives you negotiating power, but I know from experience you will have to settle for much less than the value unless you are brave and try selling it on line.
If you do the online sales, maybe consider having it professionally packaged and charge the buyer for the full amount (but I will tell you most will balk and fuss big time about that as everyone wants to pay less for things.
It is possible one of the other folks on this site knows more about the marks than I do....Good luck and thanks for sharing these stunning pieces!!
Answer

this Question