EllenB
Gold Post Medal for All Time! 858 Posts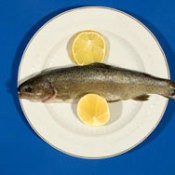 With all of the media attention over the past few years regarding toxin levels in fish and controversies on over-fishing and fish farming, it's almost become easier to avoid eating fish and shellfish than trying to sort through the facts. Here's a no nonsense guide on how to make sure the seafood you eat is both safe and sustainable.
The Troublesome Toxins
Seafood is one of the best, most nutritious sources of high-quality protein available. It is low in fat and calories and certain kinds of fish contain heart-healthy Omega-3 oils, also thought to help arthritis, allergies, even depression. Safe, sustainable fish and shell fish should be a part of every healthy diet.
Mercury: Despite their health-related benefits, just about all fish and shellfish contain trace amounts of mercury. Mercury is a by-product of manufacturing and industry. It falls into the water from airborne emissions where it turns into methylmercury. As fish feed, they absorb methylmercury into their tissues. Because mercury accumulates in tissues over time, older, larger fish tend to contain higher levels.
Both the Food and Drug Administration (FDA) and the Environmental Protection Agency (EPA) have issued advisories suggesting limiting the consumption of certain types of fish. These fish consistently contain higher levels of mercury when tested. For most people, the risk from mercury by eating fish and shellfish is not a health concern, but pregnant women, young children, and people who consumer several meals of fish per week should pay special attention to the advisories.
PCBs & Other Toxins: Polychlorinated Biphenyls (PCBs) and other known carcinogens (including dioxins and pesticides), have also been found in fish. Their long-term effects on health are still being studied. In the case of PCBs, recent studies suggest farmed salmon are particularly prone to contamination, due to the fact that the ground-up fish they are fed often contain high concentrations of PCBs.
Environmental Problems
In addition to health-related issues, the production methods of certain fish species also lead to some serious environmental problems.
Overfishing: Certain fish populations are under considerable stress due to the fact that we are catching and consuming them faster than their populations can be replenished.
Catching Practices: Unsound fishing methods, such as large drift nets and bottom trawlers, are leading to the rapid decline of our oceans. These "catch-all" methods damage coral and catch everything in their path, which leads to tons of unintentional catches that get thrown back-either already dead or dying.
Fish Farming: Some types of fish are conventionally farmed in ways that damage surrounding aquatic environments by polluting them with waste, chemicals, and antibiotics.
Learning to Spot Safe Seafood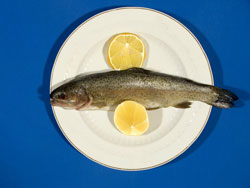 Seafood is one of the best, most nutritious sources of high-quality protein available.
Many organizations put out "pocket guides" to safe seafood. Because they all use different evaluation criteria to determine which fish are safe, each list is a little bit different. Cross checking the fish on these lists can lead to serious confusion over exactly which seafood is safe and many times the data is out-of-date or incomplete.
Your best bet is for spotting safe seafood is to look for "Safe" labels. Although labeling fish as safe is currently in its infant stages, here are the best labels to look for.
Seafood Safe: This label provides consumers with information on the two most common toxins, mercury and PCBs. Seafood Safe labels are scientifically verified by a third party and include the number of meals per month it is safe to consume each fish according to EPA guidelines.
Marine Stewardship Council: This label appears on several types of wild fish and is an indication that eco-friendly and sustainable methods of harvesting have been used to produce the product.
Country of Origin Labeling (COOL): This label appears on seafood sold in grocery stores (not restaurants) and indicates whether the fish is farmed or wild and its country of origin. Farmed salmon from Europe tends to contain higher toxins that U.S., Chilean, or Canadian farmed salmon. Wild salmon contains the least amount of toxins regardless of its country of origin.
Fishwise: This labeling system uses a series of color codes (green, yellow and red) that indicate the type of fish, how it was caught, where it originates from and whether or not it's sustainable.
The Problem With Organic Labeling
Fish labeled "organic" can be problematic because it can mean different things. For example, the U.S. Department of Agriculture currently has not developed organic standards for fish. Therefore, fish from Europe or Canada that is labeled organic may not conform to USDA standards. There are a few U.S. shrimp farms that have been approved as organic by the USDA, but in general, seafood labeled organic can still contain toxins and may not be produced in an environmentally responsible way.
Eat Smaller Fish
A good rule of thumb is simply to eat smaller, younger fish that haven't had time to accumulate as many toxins, and limit your consumption of high-risk fish to one meal per month. When dining out, try to find out information on where the restaurant gets its fish and whether or not it is produced wild or farmed. To find out what types of fish may be at risk locally, contact your state health department.