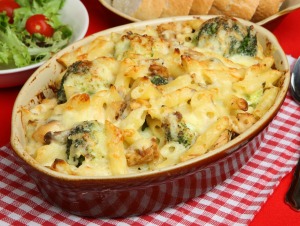 Seafood Casserole I
Ingredients
1 cup shell pasta (250 ml)
1 1/2 cup sliced mushrooms (375 ml)
2 Tbsp. butter (30 ml)
1 can cream of mushroom soup (284 ml)
1/2 can water (125 ml)
1 cup milk (250 ml)
1 cup grated cheddar cheese (250 ml)
2 hard-boiled eggs, chopped
1 cup chopped crabmeat (250 ml)
1 cup broken shrimp (250 ml)
Directions
Cook pasta in lightly salted boiling water. Drain.
Saute mushrooms in butter.
Mix macaroni, mushrooms and rest of ingredients in a 6 cup (1.6 L) buttered casserole. Refrigerate for 8 hours or overnight.
Bake at 350 degrees F (180 degrees C) for 1 hour or until hot.
From http://www.CanadianCountryGifts.com
---
Seafood Casserole II
Ingredients
1 can crab meat, do not drain
1 can tiny shrimp, do not drain
1 cup bread crumbs
1 small onion, grated
1 green pepper, chopped
1 cup celery, chopped
1 cup mayonnaise
1 tsp. Worcestershire sauce
Directions
Mix all together. Pour into oiled 1 1/2 qt. casserole. Bake at 350 degrees F for 45 minutes.
By Robin from Washington, IA