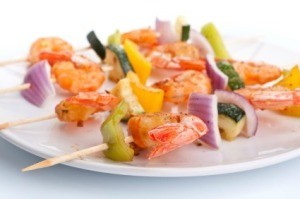 These colorful skewers contain scallops, which are naturally low in total and saturated fat.
3 medium green peppers, cut into 11/2-inch squares
11/2 lb fresh bay scallops
1 pint cherry tomatoes
1/4 C dry white wine
1/4 C vegetable oil
3 Tbsp lemon juice
dash garlic powder
to taste black pepper
1. Perboil green peppers for 2 minutes.
2. Alternately thread first three ingredients on skewers.
3. Combine next five ingredients.
4. Brush kabobs with wine/oil/lemon mixture, place on grill (or under broiler).
5. Grill 15 minutes, turning and basting frequently.
Yield:4 servings--Serving Size: 6 oz scallop kabob
Each serving provides:
Calories: 224
Total fat: 6 g
Saturated fat: less than 1 g
Cholesterol: 43 mg
Sodium: 355 mg
National Heart, Lung, and Blood Institute
Read More

Comments