March 19, 2016
0

found this helpful
I couldn't do this because walking on the bump created by the bands would worry the stuffings out of me. I'm still curious, though. How does this procedure make the ff's more secure?
March 21, 2016
0

found this helpful
Hi,
With mine, the little rubber bands keep the top part of the flip flop from coming off of the bottom part. I wear these quite often, during the warmer weather, and do not like the tripping hazard that these shoes become when and if they fall apart.
April 10, 2016
0

found this helpful
OK, Robyn,
Out of necessity, I found out on my own. The little thingy that fits between your toes slips through the hole, rendering the flip flop no less than a health hazard. Admitted, your way is better, but mostly because people have ready access to rubber bands.
In my case, I had ready access to that multi purpose wonder, scrap vinyl siding (good for making plant markers that last a lifetime). I cut out a circle of vinyl. Using a large nail and a hammer, I made a hole in the center of the circle. With a pair of scissors, I then cut an opening from the outer diameter of the circle to the inner hole. The rest is history. I have 5 pairs of flip flops, all in various stages of wear. This improvisation is a good investment.
Goody. That little 'stop' piece does stick out like a sore thumb, but, the projection is comfortably located between my big toe and it's brother (no, not that brother, silly; it's brother on the same foot). You inspired this innovation, Robyn. That makes you SPECIAL!
Doug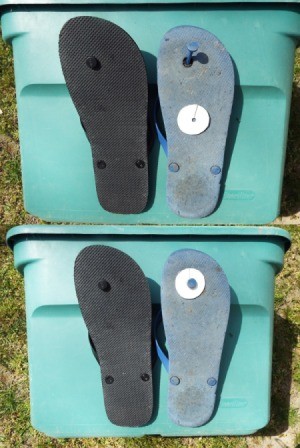 April 12, 2016
0

found this helpful
That is a wonderful idea, Doug!!!!