Flooring for Cat Pen
We have five cats and a dog that use a pen 12 by 8 feet. What should I put down on the ground to help keep the smell down, also to have it comfortable for the animals and safe?
By KJR from Englewood, CO
We are giving away $200 in Amazon gift cards for people who answer questions on ThriftyFun this month! Click here to find out more...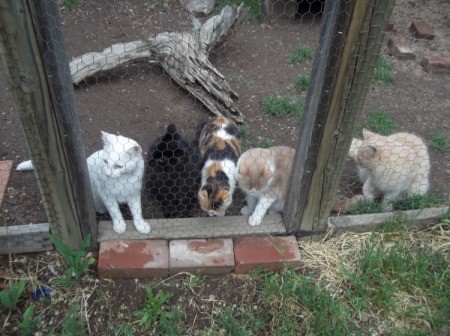 Add your voice! Click below to answer. ThriftyFun is powered by your wisdom!
March 15, 2013
0

found this helpful
There is nothing I know of that will absorb the waste from 6 animals in an 8 X 12 pen. You will still need to have litter boxes in a dry area that are cleaned at least twice a day. Picking up after a dog is one thing, but 6 animals in a pen is not something I have seen done effectively, or humanely. I would recommend that you build spaces for the cats going up. They like to be above the action. It satisfies their territorial sense. You might want to consider new homes for some of your pets until you have a managable number.
March 15, 2013
0

found this helpful
Concrete the floor - at least you can hose off the smell & germs. You would still need the cats to have litter boxes. You would need to have raised beds so that the dog & cats don't get arthritis in the bones & warm soft bedding undercover. You would need lots of climbing areas for the cats to feel safe & less bored.
March 16, 2013
0

found this helpful
I have a 20 X 10 outside kennel that I have had up to 10 cats in. Had a nice roof built with my retirement money back in 2002. I have used carpet and have 4 to 5 litter boxes. People were giving me carpet all the time and I would swape out every 8 months. I also have a large rubbermaid box that you can put a riding lawn mower in and in the winter I enclose the kennel in plastic and hang 200 watt lights in there. They are nice and warm.
Now I am down to 5 out there because 5 other passed due to being 16 plus years old. The ones out there now are 14 plus and are going on the carpet so I have piles of cardboard boxes that I bring home from work that I put all around and it they mess on them I just change them out and dump the boxes in the trash. I have all kinds of items around for them to get on so that they are not on the carpet all the time.
They also love to scratch on the cardboard boxes.
Add your voice! Click below to answer. ThriftyFun is powered by your wisdom!
Related Content