Fluffy White Frosting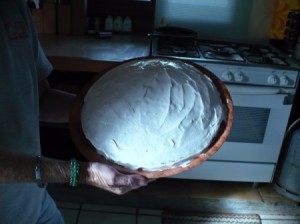 When I was growing up I couldn't eat anything made with milk. That included a few of the cake frostings that my Grandmother used to make. Generally people add milk and butter to the powdered sugar to make frosting. My Grandmother had a delicious recipe that didn't use powered sugar or milk.
I was cleaning out a box of her old recipes and I found her Fluffy White Frosting recipe. This is so simple to make and you don't need milk or butter.

Prep Time: 5 Minutes
Total Time: 15 Minutes
Yield: 2 Large single layer cakes
Source: My Grandmother's recipe
Ingredients:
1 egg white
1/3 cup water
1 cup sugar
1/2 tsp cream of tarter
Dash of salt
1 tsp vanilla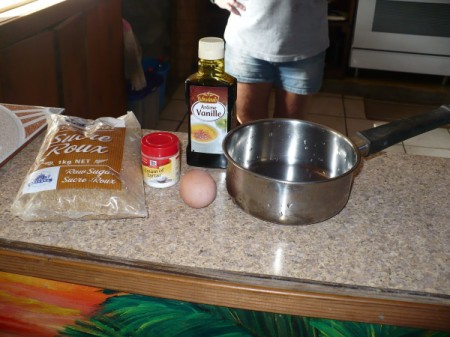 Steps:
In a small sauce pan add the water, sugar, cream of tarter and salt.
Cook on your stove at low heat until the sugar, cream of tarter and salt have dissolved completely. The liquid should be clear when all the ingredients dissolve.
Remove from the stove and sit the pan next to your mixing bowl and mixer.
In a mixing bowl add your egg white.
Start beating your egg white on medium speed until you see the foam start to rise. I normally beat my egg white for 3 to 5 minutes.
Slowly add 1/4 of the liquid to the mixing bowl. Continue mixing the egg white with the liquid until it is well blended.
Add another 1/4 of the liquid to the mixing bowl and continue mixing until the liquid is well blended with the egg white.
Continue to slowly add the rest of the liquid to your egg white.
Mix on medium speed until the mixture is stiff and forms peaks. The frosting will have a glossy look when it's done. Add your vanilla and mix well.
Time to frost your cake.
Add your voice! Click below to comment. ThriftyFun is powered by your wisdom!
August 16, 2016
2

found this helpful
This is very similar to my grandmother's "7-Minute Frosting". Ingredients are virtually the same. She made her layers, iced and sometimes added freshly shredded coconut. Makes me hungry just thinking about it.
August 17, 2016
0

found this helpful
I think back in our grandmother's day this was a very popular recipe. I'm sure more people would find this recipe in their grandmother's recipe box if they just looked. I am not sure about the 7minutes because it seems to take me longer to make this one.
September 15, 2016
0

found this helpful
@Dink, my first thought was the same. It is really close if not the same as my Grandmother's! I was so happy to find this post because I lost the one I wrote down watching Grandma (she never used a recipe, so I used to watch her cook and write down what she did).
September 20, 2016
0

found this helpful
This was my grandmas recipe also. She would make a devils food sheet cake and frost it with that, sometimes she would sprinkle coconut on top.
Have fond memories of her mashpan as she called her cake. I use this recipe all the time.
September 19, 2016
0

found this helpful
Oh!! My favorite frosting when I was growing up. My mother and grandmother both made a yellow layer cake from scratch, used this frosting, and covered the sides and top with coconut. It is also known as White Mountain frosting. This recipe brings back so many memories and makes me hungry just thinking about one of those yummy cakes.
September 19, 2016
0

found this helpful
Much like the 7 minute recipe I was using 60 years ago. I did use two egg whites. At the start, all my ingredients went together in one bowl. That bowl was set into another bowl of boiling water. The water was kept boiling on the burner as the icing was beaten on high speed for about 7 minutes.
I haven't made this in 50 years. Think I'll make some just to be sure I haven't lost my touch.
To those thinking about trying the recipe for the first time, do know that this icing will harden in a skinny minute. Any cake that is not eaten right away should be kept as air tight as possible til it is eaten. You can get around this with the addition of dissolved, unflavored gelatin...but then, that's another recipe.
September 19, 2016
0

found this helpful
That 'skinny minute' was edited to 'a few hours'. It didn't take.
Add your voice! Click below to comment. ThriftyFun is powered by your wisdom!
Related Content