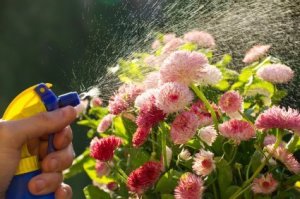 Plants take up most of the nutrients they need through their roots, but they also can absorb nutrients through their leaves. When a liquid fertilizer is diluted and applied to the leaves of plants it is called foliar feeding. Foliar feeding delivers nutrients quickly and is a great technique to ensure your plants never run short of the food they need for healthy, energetic growth.
Quick Results
Foliar feeding is a safe and effective way to apply liquid fertilizer. Because plants can absorb soluble nutrients immediately through their leaves, foliar feeding delivers nutrients to your plants very rapidly. The only downside to this is that the effects are short-lived. Once the nutrients are taken up by the plants there is no residual fertilizer to continue feeding it. Foliar feeding is a great way to resolve nutritional deficiencies quickly and give your plants a quick boost, but it is not a substitute for rich, healthy soil and a regular fertilizer regime.
How to Foliar Feed Your Garden Plants
Foliar fertilizers can be applied to plants' leaves using a watering can, a hand-held sprayer or mister, a hose-end sprayer, or a watering wand. Use a dilute solution of fish emulsion, liquid seaweed, or compost or manure tea, and spray it directly on the leaves of a plant. (There are also pre-mixed organic sprays developed specifically for this purpose.)
When buying premade sprays, always follow label instructions for diluting and mixing water-soluble fertilizers. Adding a mild liquid soap like Ivory (1/4 teaspoon per gallon) will help spread the solution evenly over leaves, but it isn't necessary. Water-soluble plant protectants (including fungicides and oils) can also be mixed with foliar feeds and applied at the same time if needed. Spray both upper and lower leaf surfaces until the solution drips from leaves. For obvious reasons, you'll want to avoid foliar feeding when rain is in the forecast, or on days you schedule extensive watering.
Use Caution to Avoid Burns
Just like full-strength fertilizers, if a foliar feed is too concentrated or it is applied during the heat of the day, your plant's leaves have the potential to burn. To avoid this, apply foliar feeds in the early morning or early evening and avoid extremely hot weather. Test the solution on a small area before applying it to the entire plant. If you have any doubts about the strength of the mixture and the potential for burn, you can always add water to the solution and apply half the recommended amount twice as often.
All-Purpose Organic Foliar Feeding Formula
Here is a great all-purpose organic formula to give your plants an instant boost. The fish emulsion provides nitrogen, the liquid seaweed provides trace nutrients, and the insecticidal soap (optional) helps the mixture adhere to the leaves, while deterring insects.
Ingredients:
2 tbsp. concentrated fish emulsion
1 tbsp. liquid seaweed extract
1 tbsp. concentrated organic insecticidal soap (optional)
1 gallon water
Directions:
Mix all of the ingredients together in an ice cream pail.
Apply to the upper and lower surfaces of plant leaves in the morning or early evening.
You can make your own version of insecticidal soap by combining 1 cup of oil (vegetable, corn, soybean, etc.) and 1 tbsp. of Ivory liquid dish soap in a lidded jar and shaking it well. If you are worried about burning delicate leaves, skip the insecticidal soap altogether.
Making Compost/Manure Tea
One of the best (and easiest) liquid fertilizers to feed your garden plants with is manure or compost tea. To make it, put a shovelful of fresh or dried manure or finished compost into a burlap sack (the tea bag) and tie it closed. Place the sack in a large bucket filled with water, secure the cover, and allow it to "steep" for about a week. For periodic foliar feedings use the "tea" at full strength. You can also dilute it with more water and use it every time you water your plants.