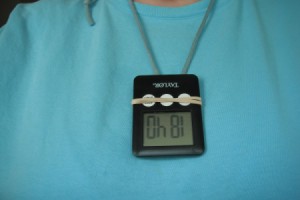 Sometimes, I need 2 or 3 timers when cooking so I purchased a couple of extra timers from Wal-mart that stick to the refrigerator by magnet.
This little timer is made by Taylor and keeps perfect time. It is small, flat and very light weight. It just keeps up with minutes and seconds, but that's OK. The problem I have with it is, the sound is not loud enough for me to hear it when it goes off. Now, when needed, I set the loud timer and also this one.
I made it so I can wear it around my neck by putting a rubber band around it, looping a cord through the rubber band and tying the ends of the cord together to make a necklace.
I find this very convenient as now I can go all over the house while watching the time and even outside if needed. I can keep up with how much time is left by looking at the timer and if all is quiet, I can hear it when it alarms.
I have found it to be very helpful.