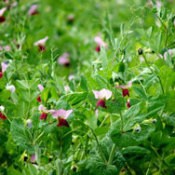 Selecting High-Quality Field Peas:
Field peas are called by many names, including southern peas, cowpeas, field peas, crowder peas, and black-eyed peas. For freezing, select well-filled flexible pods with tender seeds. Peas should be harvested as quickly as possible when pods are full or they will lose their sweet flavor.
Preparing for Freezing:
Wash pods. Shell peas and sort by size. Discard any over mature and immature seeds and those damaged or injured by insects. Wash shelled peas.
Blanching Time:
Water-blanch for 2 minutes. Cool promptly in cold water and drain well.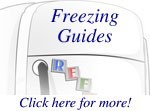 Best Freezing Method(s):
Boilable Bags: Place desired amounts of peas into 1-pint boiling bags, add desired butter and seasonings, press out air and seal. Blanch in boiling water (4 bags at a time for 4 minutes), cool bags in ice water, pat dry and freeze. Leave 1/2 inch of headspace.
Tray Packs: Lay drained, blanched peas in a single layer on a cookie sheet and place in the freezer. Using this method makes it easiest to separate the peas when cooking. When fully frozen, portion peas into suitable containers and return them to the freezer.
Dry Packs: Blanch shelled peas for 2 minutes. Cool immediately and drain well. Transfer peas directly into suitable containers for freezing. Leave a 1/2 inch of headspace.
Suitable Packaging:
Freezer containers should be moisture and vapor resistant and should not be prone to cracking or breaking at low temperatures. Containers should provide protection against absorbing flavors or odors and should be easy to label. Suitable packaging for freezing field peas includes freezer-grade plastic bags, rigid plastic containers or glass containers and heavy-duty aluminum foil.
Maximum Storage Time:
10 to 12 months at 0ºF.
Thawing:
To thaw loose peas, place them in a strainer or colander and run them under cold water.
Tips & Shortcuts:
Leave over mature pods on the vine to dry. Later you can shell and store the dried peas for use in soups and stews.
Refrigerating Field Peas:
Store fresh for 3 to 4 days.