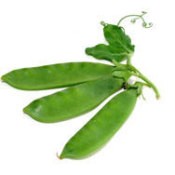 Selecting High-Quality Snow Peas:
Select tender, flat pods that are bright green in color.
Preparing for Freezing:
Wash. Remove stems, trim off blossom ends and remove any strings. Leave pea pods whole. Cool, drain and package, leaving 1/2 inch of headspace. Seal and freeze. If the peas have already started to develop, prepare them for freezing like green beans. If the peas have already fully developed, shell them as green peas.
Blanching Time:
Water-blanch small pods for 1 1/2 minutes and large pods for 2 minutes. Cool promptly and drain.
Best Freezing Method (s):
Tray Packs:
Lay drained, blanched snow peas in a single layer on a cookie sheet and place in the freezer. Using this method makes it easiest to separate the peas when thawing. When fully frozen, portion peas into suitable containers and return them to the freezer. Leave 1/2 inch of headspace.
Dry Packs:
Blanch snow peas for the recommended time according to size. Cool immediately and drain well. Transfer peas directly into suitable containers for freezing. Leave 1/2 inch of headspace.
Suitable Packaging:
Freezer containers should be moisture and vapor resistant and should not be prone to cracking or breaking at low temperatures. Containers should provide protection against absorbing flavors or odors and should be easy to label. Suitable packaging for freezing snow peas includes freezer-grade plastic bags, rigid plastic containers or glass containers and heavy-duty aluminum foil.
Maximum Storage Time:
10 to 12 months at 0ºF.
Thawing:
To thaw snow peas, place them in a strainer or colander and run them under cold water.
Tips & Shortcuts:
Snow peas make a great addition to tossed salads. Chop them up and add them while they are still frozen.
Refrigerating Snow Peas:
Store fresh snow peas for 3 to 4 days.